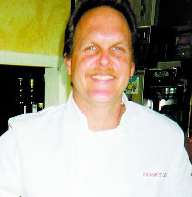 Frank Farello's highly acclaimed trattoria in Marathon 
embraces his family's Old World Italian 
recipes. You'll find over a dozen handcrafted pasta 
dishes here along with some great signature favorites including my own personal Top Pick, Snapper Francaise
Here's the recipe:
SNAPPER FRANCAISE (Serves 4)
2 lbs. Fresh Snapper
4 Eggs
1 Tsp. Salt
1 Tsp. Pepper
1 Tsp. Granulated Garlic
1 Tbl. Parmigiana Cheese
1 Tbl. Fresh Chopped Parsley
1 Cup Flour
1/2 Stick Butter
3/4 Cup Sauterne Wine
1 Tbl. Lemon Juice
1 Lemon
1 Tsp. Diced Roasted Red Pepper
Preparing the Egg Wash: Mix 4 eggs, garlic, salt, pepper, Pa rmigiana cheese and parsley.
You should be able to see the spice in the egg wash.
Prepare the fish in pieces no more than 1/2" thick. Flour on both sides and place in egg
wash.Melt butter in Teflon frying pan on medium heat until hot.* Place the fish in pan
and cook both sides until golden brown. Add sauterne wine and lemon juice. Reduce
sauce in pan by approx i m a t e lyhalf. Plate fish and garnish with lemon wheels with a dab
of roasted red pepper in the middle of each wheel. Sp rinkle with parsley.
* Chef's Tip: Don't let the butter become too hot or it will burn. Teflon pans are always more forgiving.
You can enjoy this and many of Frank's other fabulous recipes at Frank's Grill. MM 52 Gulfside in the Town Square Mall. 305-289-7772