Shop & Relax
---
Shopping in the Florida Keys and Key West is an adventure unto itself. Florida's final destination boasts hundreds of interesting shops, stores and over 90 eclectic galleries spread over 43 islands. Keep your eyes peeled as you travel along the Overseas Highway — the Florida Keys version of "Main Street, USA" — because you'll discover all kinds of unique shops in places that you would least expect!
FLORIDA KEYS AND KEY WEST
Antica Sartoria
419 Duval St.
Key West, FL 33040
305-296-7617
AnticaSartoria.us
Daily 9:30 am – 9pm
Positano Meets Key West
This leading Italian beachwear brand burst on the scene during a fashion revolution in the 60's when "Moda Postiano" style was born. Renee Schaefer and Curtis Sigretto have now brought the unique line of clothing to Florida with stores in Palm Beach and Key West. Their fabulous collection includes light, airy clothing with dazzling designs that are far from the ordinary. In addition to the embroidered Indian gauze shirts, pearl-embellished jeans, caftans, bathing suits, shirt dresses, and other fashionista "must haves," Antica Sartoria also carries lots of fun, colorful accessories along with a great selection of children's clothing.
Hemingway Bookstore Too
Clinton Square
291 Front Street
Key West, FL 33040
305-735-4385
hemingwayhome.net
Open daily 10am – 6pm
The Storied Life of Ernest Hemingway
When not sailing the waters on his boat, or bringing in record-breaking catches, legendary author, Ernest Hemingway, was writing. His tenure in Key West saw the publication of A Farewell to Arms, Death in the Afternoon, and many short stories. The Hemingway Home Book Store and Gift Shop offers a full array of Ernest Hemingway's novels, poems, short stories and biographies, as well as various publications related to Key West which was home to Hemingway from 1931 to 1939. The shop also stocks an assortment of souvenirs and collectibles that are linked to the life and times of the Nobel Prize-winning author.
---
Jeff's Gems – Key West's Great Little Find
Key West: Master jewelry designer, Jeff Woessner, started making jewelry at the tender age of 5 and sold his first creation from a stand in front of his Heartland Michigan house when he was just 8 years old. Over the last 40 years, his prolific talent has garnered him multiple awards and his small Key West shop, which is tucked away in a small alley behind Kennedy Drive, is far from the maddening crowds of busy Duval Street.
Jeff's Gems & Nautical Designs
906 F Kennedy Drive
(Behind Kennedy Plaza)
305-296-4367
jeffsgems.com
Open Tues-Fri, 10-5, and Sat 10-4
Elegant Handcrafted Jewelry
Master jewelry designer, Jeff Woessner, started making jewelry at the tender age of 5 and his prolific talent garnered him multiple awards along with a loyal clientele who revel in his meticulous handcrafted rings, earrings, necklaces bracelets & more including one-of-a-kind custom pieces made from authentic treasure coins. His small shop also stocks a great selection of nautical designs & gifts.
---
The Key Lime Bakery
Watch 'Em Being Made!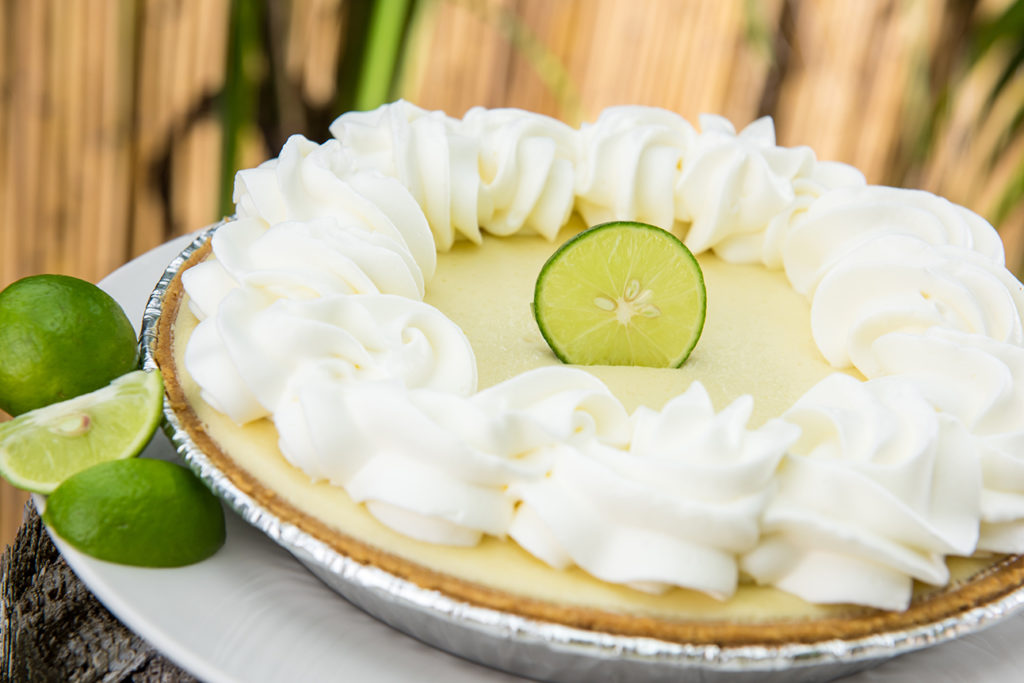 Key West: The Key Lime Pie Festival is one of Key West's tastiest summer events. So what better time to taste Key West's best key lime pie? Which brings us to Key West's renowned Key Lime Pie Bakery. The folks here have an absolute passion for Key Lime Pie. Not that you can't find Key Lime Pie at almost every roadside joint up n' down the Keys, but these dedicated bakers whip up the Real McCoy – authentic, tart, creamy pies made from an original old fashioned family recipe using only100% pure Key Lime juice, cuddled on a graham cracker crust and topped with real whipped cream.
And here's the best part: these handcrafted pies are literally fresh out of the oven and you can actually watch them being made right on premises in the Key Lime Pie Bakery kitchen. You can devour these pies by the slice, on a stick dipped in chocolate or be a real hero and take home a whole pie.
Key Lime Bakery
412 Greene Street
Key West, FL 33040
305-296-9515
keylimepiebakery.com
Open M-Su 9am – 11pm
Home of Key West's Original Key Lime Pie
Here's where you can watch the bakers whip up deliciously fresh & ready-to-eat key lime pies right on the premises and also indulge in Grandma Boots' homemade coconut pie – another delightfully decadent old family recipe. Lots of Key Lime specialties & gifts here, too – perfect for folks back home.
---
Keys Pawn
91551 Overseas Hwy.,
Tavernier, FL 33070
305-962-1956
keyspawn.com
Sa 10:30am – 2:30pm
Mon By Appointment Only
Not Your Ordinary Pawn Shop!
This world renowned shop is famous for its luxurious selection of fine jewelry and watches. You'll find great deals on some of the biggest names in the business including Roberto Coin, Omega, Breitling, Tag Heuer, David Yurman, John Hardy, Avance, Marco Bicego, Ippolita, Pandora and more.
Little Switzerland
271 Front Street
On The Harborfront next to The Westin
305-293-8600
littleswitzerland.com
M-Su 9am – 8pm
World Famous Luxury Brands
This world renowned shop is famous for its luxurious selection of fine jewelry and watches. You'll find great deals on some of the biggest names in the business including Roberto Coin, Omega, Breitling, Tag Heuer, David Yurman, John Hardy, Avance, Marco Bicego, Ippolita, Pandora and more.
Martinis Fine Wine & Spirits
20MM 81.6, Bayside
Islamorada, FL 33036
305-664-4800
martinisfinewineandspirits.com
Open M-Th 9am – 10pm;
F & Sa 9am – 11pm
Largest Selection In The Upper Keys
You'll find an amazing selection of world-class wines, always-cold craft beers, whiskey, cognac, bourbon, fortified wine and top brand spirits, here, along with a lot of hard-to-find labels. If you need to order a keg or tap for your party, you can get it here, too, along with an array of smokin' cigars from the humidor. Super reasonable prices make Martinis a real "go to" before a fishing trip or a great meal.
---
Mel Fisher Treasures There's Gold In Them Thar Seas!
It's September 4, 1622 and the weather is perfect when the Tierra Firme flota, a fleet of 28 ships, sets sail from Havana, Cuba bound for its home port of Cadiz, Spain. Laden with silver from Peru and Mexico, gold and emeralds from Columbia and pearls from Venezuela, the ships carry one of the richest new world cargos ever collected.With 82 infantrymen to defend the ships against pirate attacks, the 110' galleon Nuestra Señora Atocha sails as the fleet's rear guard. Because of her size and massive firepower, she is the ship of choice for wealthy passengers and sits low in the water with a rich cargo that is almost beyond belief.
Mel Fisher Treasures 
200 Greene Street
613 Duval Street
Key West, FL 33040
305-296-6533
melfisher.com 
Open Daily 8:30 am – 5:30 pm
The Source for Authentic Shipwreck Treasure Here is where you can find genuine, one-of-a-kind shipwreck jewelry and artifacts from the $450 million dollar treasure cache of the 1622 shipwreck "Nuestra Senora de Atocha" which was discovered off of Key West in 1985 by the world's most famous treasure  hunter, Mel Fisher. The shop also carries a wide selection authentic treasure coins from other wrecks as well as re-creation jewelry, memorabilia, apparel and literature.
---
Neptune Design
301 Duval Street Key West, FL 33040
305-294-8131
neptunedesignskeywest.com 
Open Daily 10am – 10pm
Custom Jewlery & Gold Coin Creations
This family-owned and operated boutique  jeweler has been meticulously creating 14 karat solid gold creations for over 30 years and specializes in unique custom jewlery designs. You'll find a huge selection of nautical designs, orginal charms, pendants, single 14 karat gold hoops and cut coin jewelry, as well as rare Tahitian Black Pearls and an exclusive line of Orchid jewlery fashioned from real orchid flowers.
Oceanside Home
MM 82 Oceanside
Islamorada, FL 33036
305-451-1181
oceansidehome-islamorada.com
Open M-F 10 am – 5 pm; Sat 'till 3pm
Open Daily 9am – 7pm
Coastal Home Accessories & Furniture
Design Consultant Lisa Laufle shares some of her favorite coastal home accessories, furniture and decorating ideas at this lovely showroom where you can find fresh, fabulous rugs from Dash & Albert, extraordinary bedding by Ankasa, special statement furniture crafted by Made Goods, casual, elegant interior pieces designed by OLY, gorgeous bath accessories from Pigeon and Poodle and so much more! Lisa also offers consulting services as well as custom orders.
Olive Morada
82245 Overseas Hwy
Islamorada, Fl 33036
305-735-4375
olivemorada.com
Open M – S 10am – 5pm
The Olive & Vinegar Store
Owners Jen White and Jenn Miller bring their love of all things "super cute" to this small Islamorada shop where fine imported olive oils, specialty oils, balsamic vinegars and unique island gifts are the main attraction. You'll be amazed at how many delicious possibilities you can whip up in your kitchen using their unique line of gourmet products. Jen and Jenn offer a new in-store tasting each day which makes it a fun place to sample some of their tasty recipes.
Promotions Guy
10065 Overseas Hwy Marathon, FL 33050
844-279-5628
promotionsguy.com
Open Daily 9am – 9pm
Gets Your Company Noticed
Ryan Schraffenberger and his cracker-jack staff are the go-to guys when you need advertising specialties and printing that get you noticed. Screen printing, promotional products, signs, business cards, trophies, banners – you name it. If it can be customized, Ryan and company will do it. Great
one-on-one service makes working with them a total breeze.
The Keys Salt Scrub™
40 High Point Road #101
Tavernier, FL 33070
305-852-9499
TheKeysSaltScrub.com 
Hours Vary By Location
Transforms Your Skin In Just 60 Seconds
The Local's #1 favorite is handcrafted in small batches right here in the Keys using the unique "Secret Less-Oily Formula" which will transform your skin in just 60 seconds. Massage onto your hands, feet or over your entire body to exfoliate, refresh and re-juvenate. A great gift or perfect keepsake. Available at local restaurants and shops throughout the Keys and online at TheKeysSaltScrub.com.