Florida Keys & Key West Coronavirus Info & Updates
For the latest Coronavirus Information please go to:
Get reliable information from trusted resources:
Centers for Disease Control (CDC)
Florida Department of Health
Monroe County Emergency Management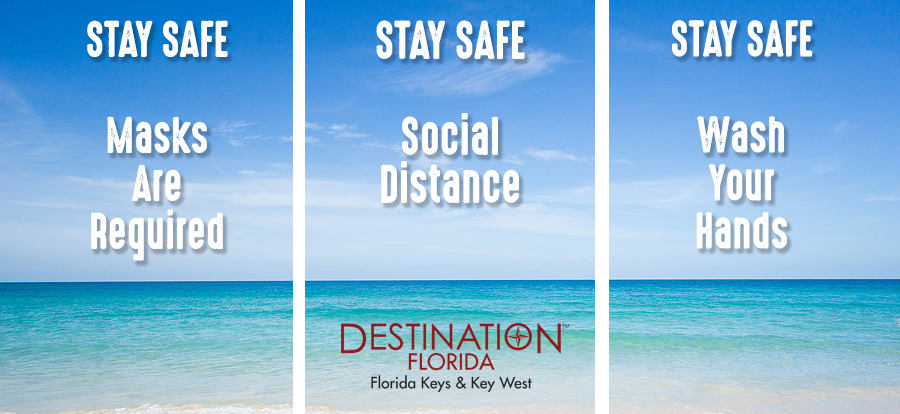 Want to talk to someone:
Florida Department of Health Call Center, 866-779-6121 (24 Hours)
Monroe County Information Hotline: 800-955-5504 (9 a.m. to 5 p.m.)
Key West Information Hotline/Key West Related Questions Only: 305-809-1101 (8 a.m. to 8 p.m.)
To Report Crowds, Non-Compliant Use of Facial Coverings, Essential Businesses: Please Call Code Compliance in your area first
Key West Code Compliance: 305-809-3740
Marathon Code Compliance:305-289-5024
Key Colony Beach Code Compliance: 305-289-1212 ext. 3
Islamorada Code Compliance: 305-664-6435.
Layton Code Compliance: 305-664-4667
County Code Compliance
Lower Keys: 305-295-4343
Middle Keys: 305-289-2810
Upper Keys: 305-453-8806
Law enforcement can be contacted if code compliance is not available or after hours:
Key West Police Dept: 305-809-1000
Monroe County Non-Emergency Line: 305-292-7000
Frequently Asked Questions for Florida Keys Travelers
What is coronavirus (COVID-19)?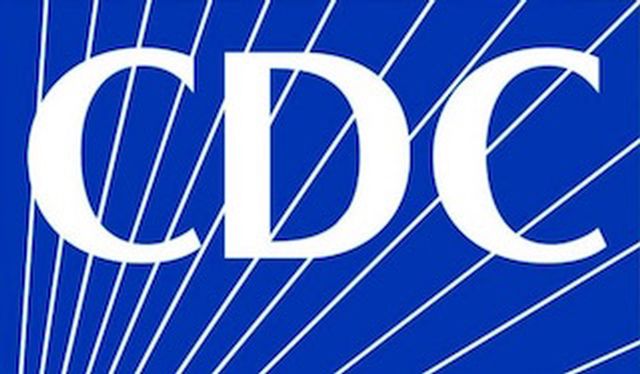 On February 11, 2020, the World Health Organization announced an official name for the disease that is causing the 2019 novel coronavirus outbreak, first identified in Wuhan China. The new name of this disease is coronavirus disease 2019, abbreviated as COVID-19. In COVID-19, 'CO' stands for 'corona,' 'VI' for 'virus,' and 'D' for disease.
There are many types of human coronaviruses including some that commonly cause mild upper-respiratory tract illnesses. COVID-19 is a new disease, caused be a novel (or new) coronavirus that has not previously been seen in humans. (source: CDC.gov)
Who is most affected by COVID-19?
The elderly (over age 65) and those with compromised immune systems or underlying health conditions such as high blood pressure, heart disease, diabetes, lung disease such as COPD, or obesity are at the greatest risk for serious effects from COVID-19.
How can I best protect myself and my family?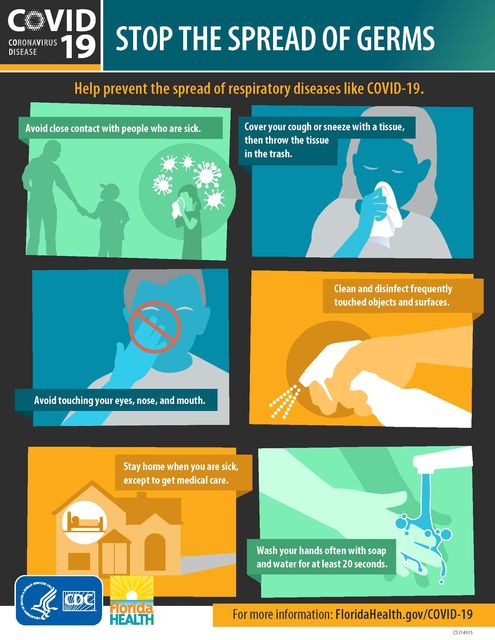 While there's not yet a vaccine for COVID-19, the best prevention and treatments are methods that have been practiced for years when dealing with flu and respiratory illnesses. The best way to prevent illness is to avoid being exposed to the virus.
Health officials remind people that preventive actions to help impede the spread of respiratory diseases include:
• Avoid close contact with people who are sick
• Stay home and avoid contact with persons in poor health
• Avoid touching your eyes, nose and mouth with unwashed hands
• Cover coughs or sneezes with a tissue, then dispose of the tissue
• Wash hands often with soap and water for at least 20 seconds, especially after going to the bathroom, before eating and after blowing the nose, coughing or sneezing
• If soap and water are not readily available, use an alcohol-based hand sanitizer with at least 60 percent alcohol; always wash hands with soap and water if hands are visibly dirty
• Clean and disinfect frequently touched objects and surfaces using a regular household cleaning spray or wipe.
The Florida Department of Health website has step-by-step guidance.
It is also recommended that individuals avoid any contact with other individuals in, closed-in or poorly ventilated settings with little air circulation if you are:
• A contact to a known or suspected case of COVID-19
• Over the age of 65 with underlying health conditions
• Immune compromised
• Are ill
• Have been exposed to someone with a respiratory illness in the last 14 days
• Have chronic health conditions such as heart disease, diabetes or lung disease
• Have traveled internationally within the last 14 days, especially to destinations under a level 3 travel advisory
• Have traveled to or from a geographic area with widespread community transmission of COVID-19
Find Everything You Need In The Keys & Key West
The Journey Is The Destination
Key Largo to Key West Via Florida's Only All-American Road
Key West may be one of America's most notorious end-of-the-road party towns, but in this case, getting there can be as much fun as the destination itself. Spanning 110 Miles over 43 alluring islands, the Florida Keys Scenic Highway is Florida's only "All-American Road" — a prestigious designation it shares with only 29 other American roadways. And with good reason. Read More
Good EatsLooking for the best restaurants in the Florida Keys? Well, you've come to the right place! The Florida Keys & Key West are a top Florida destination for great food and award-winning restaurants. From cozy, neighborhood bistros, waterfront seafood joints...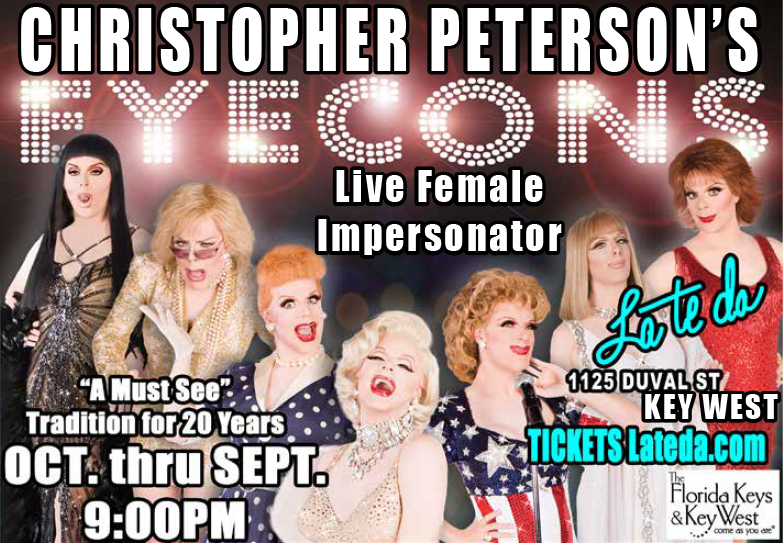 Oct – July Christopher Peterson's Eyecons
Key West: Often compared to the legendary Jim Baily, master of impersonations, Christopher Peterson is, without a doubt, one of North America's foremost female impersonators – both visually and vocally. His hit show, EYECONS, is one of the hottest tickets in town and you'll be totally amazed by the way he transforms himself into more than a dozen famous women right before your very eyes with the help of his "magic closet." Catch him in the Crystal Room Cabaret at La Te Da, 1125 Duval St., Key West. Tickets and info: 305-296-6706; lateda.com.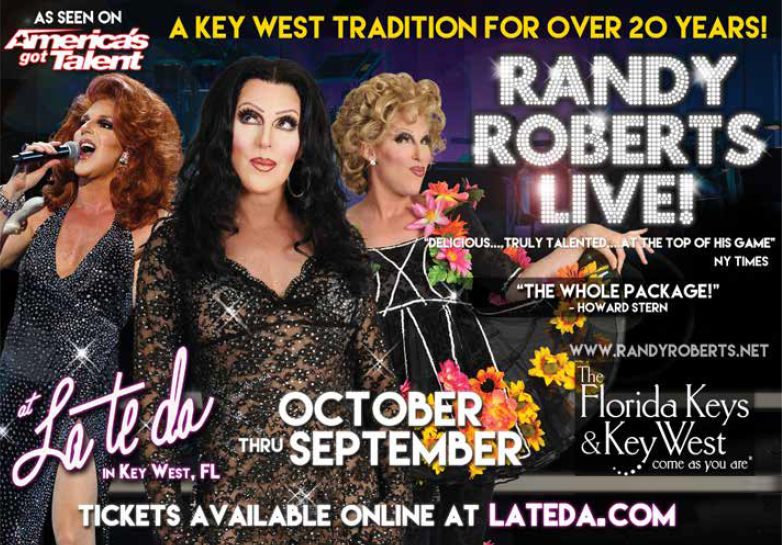 Oct – July Randy Roberts Live!
Key West: Highly acclaimed entertainer, seen on America's Got Talent, Randy Roberts shines in this live, multi-media tribute to some of the world's most beloved performers. His uncanny impersonations of Cher and Better Midler are spot-on and he'll have you rolling in the aisles when he performs a titillating strip tease as the bawdy Gypsy Rose Lee. But nothing compares to Roberts' own self-created character which can only be described as Ann-Margaret, Liza Minnelli and Joan Rivers all rolled into one powerhouse performer. Catch this amazing show at La Te Da's Crystal Room Cabaret, 1125 Duval St., Key West. Tickets and info: 305-296-6706; lateda.com.
For every edition we print, DESTINATION Florida Keys & Key West will plant a correlating number of Ponderosa Pines in South Dakota's Pine Ridge Native American Indian Reservation. Encompassing 3,468.85 square miles, and larger than Delaware and Rhode Island combined, it is the eighth largest reservation in the US.
As a global forestry partner with the international Print Relief initiative, we are committed to converting our paper footprint into actual trees. Greening the landscape to combat climate change, land rights issue and poverty, while developing income opportunities are paramount to the Pine Ridge Project. With Print Relief, resources borrowed from the earth can be returned and multiplied after use. Through their verified reforestation process, there is a 100% net survival of the trees we plant.
Thanks for your support as we now help to reforest the Pine Ridge Native American Reservation…one print job at a time.
DESTINATION FLORIDA
The Sunshine State's most recommended Visitors Guide
now available in your favorite Florida Destinations!