Find Everything You Need In The Keys & Key West
Good Eats Looking for the best restaurants in the Florida Keys? Well, you've come to the right place! The Florida Keys & Key West are a top Florida destination for great food and award-winning restaurants. From cozy, neighborhood bistros, waterfront seafood joints...
The Journey Is The Destination
Key Largo to Key West Via Florida's Only All-American Road
Key West may be one of America's most notorious end-of-the-road party towns, but in this case, getting there can be as much fun as the destination itself. Spanning 110 Miles over 43 alluring islands, the Florida Keys Scenic Highway is Florida's only "All-American Road" — a prestigious designation it shares with only 29 other American roadways. And with good reason. Read More
Key West Food & Wine Festival Schedule Now in its 10th year, the highly anticipated Key West Food & Wine Festival, roars onto the island Wednesday, January 23 - Sunday, January 27 with a culinary arts celebration that includes a whopping 30 fun and delectable...
May 3
4th Annual Papio Kinetic Sculpture Parade
Key West: Inspired by, and named for, the late Keys artist Stanley Papio, a humorous rebel metal-artist who explored the value of recycled materials long before it was hip to be rusty. The fantastical, family friendly cavalcade of totally human-powered art sculptures begins at noon at the Custom House (281 Front St.) and proceeds down Duval St. Info: 305-295-6616; papioskineticparade.com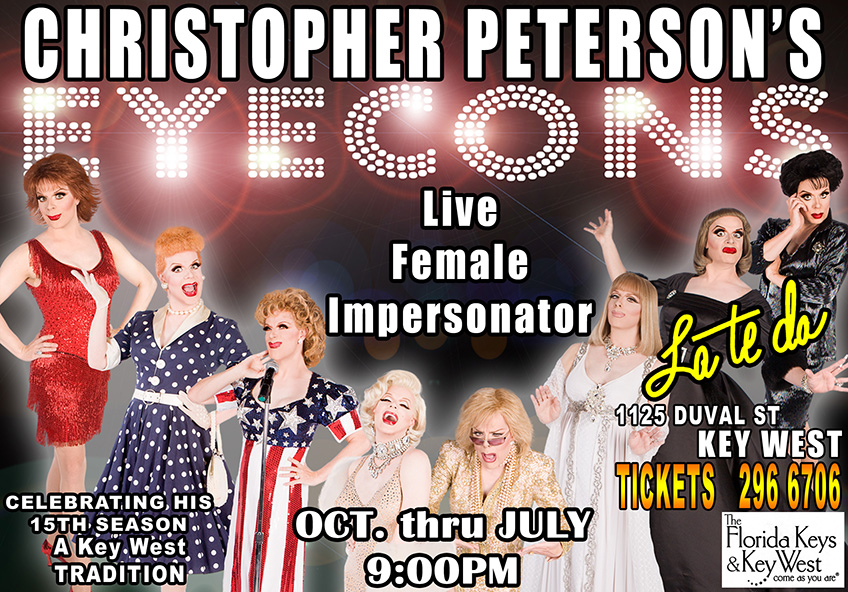 Oct – July Christopher Peterson's Eyecons
Key West: Often compared to the legendary Jim Baily, master of impersonations, Christopher Peterson is, without a doubt, one of North America's foremost female impersonators – both visually and vocally. His hit show, EYECONS, is one of the hottest tickets in town and you'll be totally amazed by the way he transforms himself into more than a dozen famous women right before your very eyes with the help of his "magic closet." Catch him in the Crystal Room Cabaret at La Te Da, 1125 Duval St., Key West. Tickets and info: 305-296-6706; lateda.com.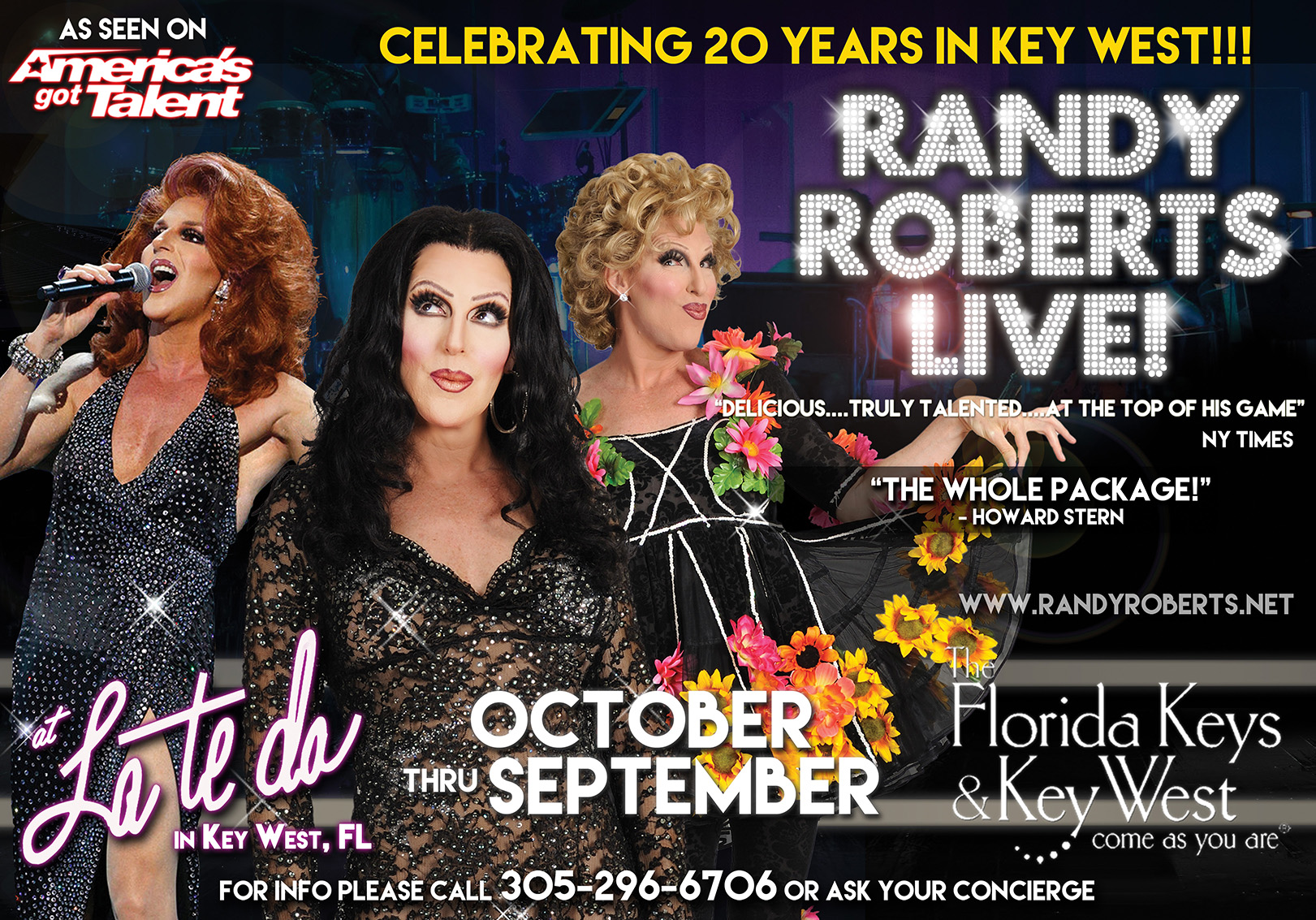 Oct – July Randy Roberts Live!
Key West: Highly acclaimed entertainer, seen on America's Got Talent, Randy Roberts shines in this live, multi-media tribute to some of the world's most beloved performers. His uncanny impersonations of Cher and Better Midler are spot-on and he'll have you rolling in the aisles when he performs a titillating strip tease as the bawdy Gypsy Lee Rose. But nothing compares to Roberts' own self-created character which can only be described as Ann-Margaret, Liza Minnelli and Joan Rivers all rolled into one powerhouse performer. Catch this amazing show at La Te Da's Crystal Room Cabaret, 1125 Duval St., Key West. Tickets and info: 305-296-6706; lateda.com.
For every edition we print, DESTINATION Florida Keys & Key West will plant a correlating number of Ponderosa Pines in South Dakota's Pine Ridge Native American Indian Reservation. Encompassing 3,468.85 square miles, and larger than Delaware and Rhode Island combined, it is the eighth largest reservation in the US.
As a global forestry partner with the international Print Relief initiative, we are committed to converting our paper footprint into actual trees. Greening the landscape to combat climate change, land rights issue and poverty, while developing income opportunities are paramount to the Pine Ridge Project. With Print Relief, resources borrowed from the earth can be returned and multiplied after use. Through their verified reforestation process, there is a 100% net survival of the trees we plant.
Thanks for your support as we now help to reforest the Pine Ridge Native American Reservation…one print job at a time.
DESTINATION FLORIDA
The Sunshine State's most recommended Visitors Guide
now available in your favorite Florida Destinations!