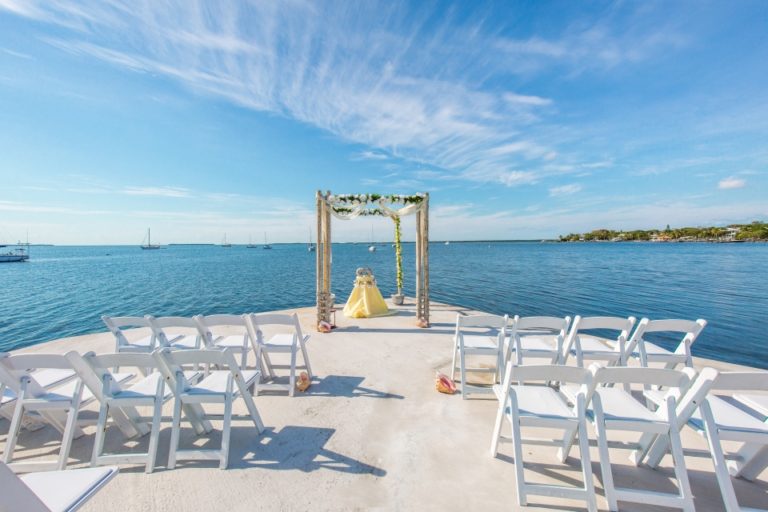 Considered one of the top five US wedding destinations, there's no more of an all-inclusive destination to pledge "I Do," than the subtropical Florida Keys & Key West. Of course no passport is required and because commercial flights are readily available into Key West International Airport as well as mainland South Florida cities, getting down here is a breeze.
But what makes Key West and the Keys especially attractive for wedding bliss, are all fun options you have for your event.
You can marry on paddle boards or bicycles; Exchange vows aboard tall ships, sailing vessels, glass-bottom and dive boats; Pledge your undying love on a luxury motor yacht; And even seal your vows underwater before retreating to Jules' Undersea Lodge – the only submerged recreational hotel in the US, located in a Key Largo lagoon.
FYI: There are lots of professional wedding planners available throughout the Keys who can assist you with attire, flowers, music, rings, catering, cakes, photographers and videographers, transportation and officiants. For help, hit up floridakeysweddingcenter.com.
Here Are Some Other Fun Florida Keys Wedding Idea
The Bogart and Bacall Love Story Wedding
The iconic original vessel from John Huston's classic 1951 film "The African Queen," starring Humphrey Bogart and Katharine Hepburn, is now docked right in Key Largo. You can actually hold a small, intimate ceremony on-board for four guests or get married on the dock followed by a romantic boat ride after your wedding. Info: africanqueenflkeys.com.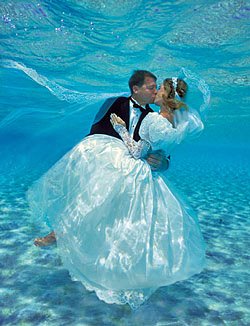 The Underwater Wedding
If you're a scuba aficionado, the Keys' clear, warm waters may be the perfect place to tie the knot. Home to the United States' only living coral barrier reef, you and your sweetheart can "exchange" your vows on writing slates, nod in agreement and seal the deal with a kiss. Your wedding party and guests don gowns, tuxedos, boutonnières and bathing suits for a uniquely marine matrimony. If not all the guests want to get wet, couples can charter a glass bottom boat for passengers, and arrange for an underwater HD video package of the happy event.
One of the most famous Upper Keys underwater nuptial niches is the nine-foot-high shrine of "Christ of the Abyss," a 4,000-pound bronze statue within the Florida Keys National Marine Sanctuary, in waters adjacent to Key Largo's John Pennekamp Coral Reef State Park. The statue is one of the most photographed underwater sites in the world, and its welcoming arms make a perfect place to exchange "I Do's." Info: foridastateparks.org/park/Pennekamp.
The On-the-Water Wedding
Tall ships, sailing vessels, glass-bottom boats and luxury motor yachts are also all available for declaring "I Do."
Imagine swallowing the anchor in a pirate-themed wedding aboard a private ship, where guests, dressed as the scallawag crew, throw back rum and grog or imbibe in champagne.
Avid anglers have been known to cast lines after officially getting "hooked" aboard one of the Keys' many charter outfits. Picture this: taking your vows against an orange sunset, and wild dolphins jump up near the boat to celebrate with you following the ceremony. Mother Nature works in mysterious ways.
The Sea Creature Wedding
If you love dolphins and other marine mammals, you can marry at the Dolphin Research Center on Grassy Key. During a "Private Dolphin Encounter," a dolphin can serve as a wedding attendant or deliver the ring for an unforgettable proposal. Info: dolphins.org.
At Florida Keys Aquarium Encounters in Marathon, couples can schedule an event for up to 300 people amid natural mangrove hammocks and the aquarium's grounds that extend to the serene waters of Vaca Cut. Info: foridakeysaquariumencounters.com.
The Hemingway Literary Wedding
If you're more of a literary aficionados, head to Key West and say your vows on the grounds of the Ernest Hemingway Home & Museum. Famed author and Nobel Prize winner Hemingway lived in the Spanish colonial villa and wrote famous works there during the 1930s. The Museum occupies an acre of land with lush tropical gardens, swarms of polydactyl cats, and a breathtaking home that is now an official historical landmark. Special events at the Hemingway Home are held outdoors and can include private guided tours through the museum for guests. Info: hemingwayhome.com.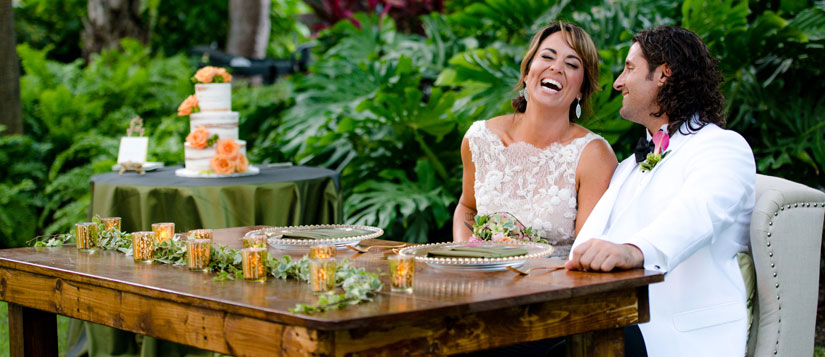 The Little White House Wedding
The Harry S. Truman Little White House in Key West, Florida's only presidential museum, offers lush palm-framed gardens and three lawns that span an acre. During his administration from 1945 to 1953, President Truman spent 11 working vacations at the sprawling West Indian-style residence. The museum is available for indoor rehearsal dinners and is like taking a step back in time. Info: trumanlittlewhitehouse.com.
FYI: There are lots of professional wedding planners available throughout the Keys who can assist you with attire, flowers, music, rings, catering, cakes, photographers and videographers, transportation and officiants. For help, check out floridakeysweddingcenter.com.
Here's What You Need To Know About Getting Your Marriage License
Down here in the Keys, applying for a marriage license is pretty simple but you can also obtain a marriage license anywhere in Florida. Once issued, the license must be used within 60 days.
• Both people must be a minimum of 18 years of age. If you're under 18, you need to contact the Monroe County Clerk's office for legal requirements.
• You'll need a photo ID (passport/driver's license student or military ID, or foreign registration card).
• If you were previously married, you'll need to provide the date of a divorce or death of a spouse if applicable
• No blood test is required.
• There is no waiting period for Florida non-residents but if you reside in the state, a three-day waiting period applies.
Other conditions/restrictions might apply. Call the Monroe County Government office: 305-292-3550
Monroe County's Clerk of Court Locations
Key West
Monroe County Courthouse
500 Whitehead St
305-292-3458
Marathon
Marathon Branch Courthouse
3117 Overseas Hwy at mile marker 48.5 oceanside
305-289-6027
Plantation Key
The Upper Keys Government Center
88820 Overseas Highway at mile marker 88.5 bayside
305-852-7145
Special thanks to Keys Traveler