Don't be surprised if you see local Florida Keys fishermen delivering their fresh ocean bounties right to the back door of many of our best dining establishments. From 5-Star gourmet restaurants to rough hewn "fish houses," here in the Florida Keys and Key West, it's the "Catch of the Day" that gets star treatment on almost every menu. But don't sell the Keys short on its range of other delectable dishes.
Our island chain is a magnet for world class culinary talents who are renowned for their award-winning American, International and Florribean cuisine. The island's highly acclaimed chefs are a tight knit bunch and their friendly competitive nature is a perfect recipe for some of the most intriguing combinations of food you'll ever taste.
Here are some of the Upper Keys top tables: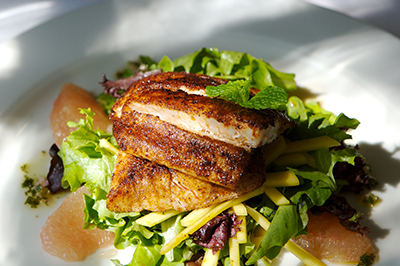 BEST ISLAND CHIC
Snook's Bayside
Key Largo: Hidden away at the end of a private lane, just off US 1, this chandeliered Grand Tiki with its flickering torches, lush plantings and SOBE-style sofa lounges is oh-so-chic! A gorgeous, open-air dining area, sprawling 5,000 square foot patio and multiple bars all have unobstructed views of the Bay, giving you a ringside seat to one of the best sunset celebrations in the Keys. The fresh, island-inspired dishes, here, are also first rate. Truly a great place to kick back enjoy a piece of paradise. Find it at MM 99.9 Bayside, Key Largo. 305-453-5004; snooks.com.
BEST FISH HOUSE
The Fish House
Key Largo: If the name fits — and here it does because this bustling joint is the hottest seafood spot in town and gets constant raves from locals and visitors alike. Big portions, a fun, friendly staff and a Keys-y atmosphere compliment an extensive menu that includes chowders, stone crab, shellfish, native fish, steaks and pasta. Be sure to save room for the signature Key Lime Pie – it's one of the best around! Find it at MM 102.4, Oceanside, Key Largo. 305-451-HOOK; fishhouse.com.
BEST LOBSTER BLT
Key Largo Fisheries
Key Largo: Until recently, we always thought there was nothing like a great Maine lobster roll. Of course that was before we discovered the Lobster BLT at the "Take Away Cafe" on the docks behind Key Largo Fisheries. Perfectly cooked, firm – tender lobster (not fried – Sacre Bleu!) is generously heaped on a buttery Croissant fused with crisp bacon, juicy ripe tomato slices, fresh Bibb lettuce and a healthy slather of spicy mayo. Also first rate: the incredible Lobster BLT Soup loaded with bacon and lobster. YUM! Find it at MM 99.5, Oceanside at 1313 Ocean Bay Dr., Key Largo. 305-451-3782; keylargofisheries.com.
BEST WATERFRONT HIDEAWAY
Buzzard's Roost
Key Largo: Talk about a Keys' hideaway! If you weren't looking for the Buzzard's Roost in north Key Largo, you probably would never run across it. And that would be a darn shame because it's one of the best casual waterfront restaurants in the Keys. Situated dockside at the Garden Cove Marina, this cozy spot may be off the beaten track but the food is all that and a bag of chips. You'll find loads of fresh fish dishes and local seafood here, as well as belly buster sandwiches, big, juicy chargrilled Black Angus burgers, jumbo chicken wings and lots of tasty light bites. Big plates run the gamut from Shrimp Scampi, the Seafood Combo Platter and Fried Shrimp to Chicken Marsala, certifiedBlack Angus Steaks and slow roasted BBQ Baby Back Ribs. Find it just before the entrance of Card Sound Road at 21 Garden Cove Drive, MM 106.5, Oceanside in Key Largo. Info: 305-453-3746; buzzardsroostkeylargo.com.
BEST ISLAND ASIAN
Kaiyo Grill
Islamorada: We discovered this hip, jewel box of a restaurant on Islamorada's Old Highway, right across from the landmark Hurricane Monument of 1935. Snuggled in a historic "Conch House," Kaiyo Grill is a favorite hangout for locals as well as some of the world's most famous anglers. The eclectic menu here, which includes incredible wood-grilled local fish, seafood, prime steaks and world-class sushi, is a notable collaboration of Kaiyo's celebrate chefs who have a special knack for creating rich, deep flavored dishes with an Asian/Island twist. Terrific Sake list, too. Find it at MM 81.7, Oceanside, Old Highway, Islamorada. 305-664-5556; kaiyogrill.com.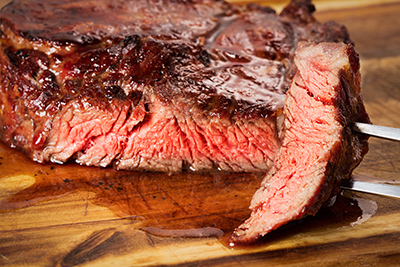 BEST PORTERHOUSE STEAK
Ziggie & Mad Dog's
Islamorada: Truth be told, you can't go wrong with anything on the menu of this legendary Keys' landmark because all the food here is truly world class. Steak lovers will revel in the tender 12 oz. Center Cut Filet, tasty 16 oz. New York Strip and full flavored 21 oz. Bone-In Rib Eye, but it's the 28 oz. "Czonka" Porterhouse that is totally over the top. Team one up with a linebacker-size baked potato and you've got yourself a winning combination. Find it at MM 83 Bayside, Islamorada.305-664-3391; ziggieandmaddogs.com.
BEST OCEANFRONT EATSLazy Days
Islamorada: Nothing says "Lazy Days in the Keys" more than wiggling your toes in the sand, Key Lime Mojito in hand and dining on boat-to-table seafood: all backdropped with a spectacular stretch of Atlantic as far as your eyes can see. "Keys-style" cooking is the specialty here and loyal customers clamor in for signature preparations of local seafood. And while the chefs are masters with fresh local seafood, their chicken, steak and pasta dishes are just as noteworthy. Lots of great appetizers and light bites here, too including some of the best fried cracked conch you will ever eat. If you stop in for lunch, we highly recommend the coconut fried Fresh Catch Sandwich. And do not, we repeat, do not go home without a loaf of the homemade banana bread. It is absolute heaven! Find it at MM 79.9 oceanside in Islamorada 305-664-5256; lazydaysrestaurant.com.
BEST KEYS CLASSICS
Green Turtle Inn
Islamorada: Locals have been hanging out at this iconic Islamorada landmark since 1947 which is renowned for its world famous Turtle Chowder. The inventive menu embraces fresh local ingredients and delivers several standout land and sea dishes. Topping the list: "Fresh Catch a la Sid," seared and topped with Maine lobster, orange and butter sauce; the "Chef's Ribs," signature rubbed and slow smoked; and the Southern Smoked Shrimp & Grits with Andouille sausage. FYI: Breakfast here is totally over the top. Get there early for the house made Cinnamon Buns – they always sell out fast! Find it at MM 81.2, Oceanside, Islamorada. 305-664-2006; greenturtleinn.com.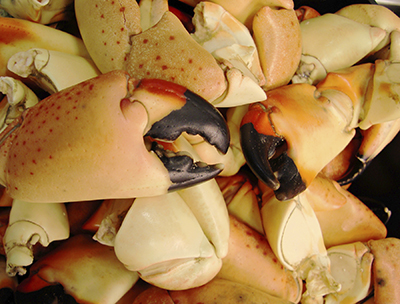 BEST SEAFOOD JOINT
Square Grouper
Islamorada: Good news for Square Grouper fans at MM 22.5 on Cudjoe Key: the heralded Lower Keys landmark has opened a new waterfront location within the Islamorada Marina complex. The innovative and eclectic menu mirrors the original location with a big offering of fresh seafood, prime steaks, and craft cocktails, as well a fantastic wine list and full bar. Local favorites include the Ahi Tuna Egg Rolls, Flash Fried Conch, homemade Smoked Fish Dip and lots of signature Land and Sea dishes. If you haven't had an opportunity to make it to the original Lower Keys location, now's your chance to see what everyone's been raving about! Find it at 80.5 Overseas Hwy, Islamorada. 786-901-5678; squaregrouperbarandgrill.com
BEST PLACE TO GRAB A BURGER
Reel Burger
Islamorada: What's better than hanging out by the beach in your flip flops and chowing down on a really GREAT burger? For Islanders like us, not much. And that's why Reel Burger at the Amara Cay Resort in Islamorada is our go-to spot for this simple pleasure. Made – to – order with a custom blend of ground beef, the signature burgers here are extraordinarily good – especially when they're served by an expanse of palm trees, sea and sand. Served with a crunchy pickle and your choice of Kettle Chips, House Slaw or crispy fries, these Bad Boys are just what the Sun God ordered. Lots of other yummy handhelds, too, along with fish, chicken and vegetarian options. Find your place in the sun at Amara Cay Resort, 80001 Overseas Hwy. 305-664-0073; amaracayresort.com.
BEST KEYS SUNSET CELEBRATION
Lor-e-lei Restaurant & Cabana Bar
Islamorada: Cited as one of the "Best and Brightest Spots in Florida," this casual, family friendly hangout is home to the world famous Lor-e-lei Fishing Guides and lively Sunset Celebration. Great casual fare with an array of tasty sandwiches, fresh local seafood, ribs, steak and chicken. Live entertainment by local bands. Happy Hour specials from 4 – 6pm. Find it at MM82, Bayside, Islamorada. 305-664-2692; loreleifloridakeys.com.
BEST DOGGONE ITALIAN FOOD
Islamorada: Ciao Hound Italian Kitchen & Bar
Raise your paw if you like Italian food! This unpretentious, dog-friendly eatery dishes up big portions of traditional Tuscan recipes and also offers an exclusive "doggie menu" with fido favorites like the "Hen House Chicken Strips." People pleasers also
abound with favorites like Pasta e Fagioli, Braised Short ribs and Lobster Ravioli. Gluten-free options, too. Find it at 84001 Overseas Hwy in Islamorada. 305-664-5300; ciaohound84.com.