ONGOING 
Nightly 
Jazz at Tavern N' Town 
Key West: Some of Key West's top talent including "Island Chanteuse" Carmen Rodriquez and Michael Thomas perform nightly from 5-7pm during Key West's best Happy Hour. Takes place at Marriott Beachside Resort, 3841 N. Roosevelt Blvd. Info: 305-296-8100; tavernntown.com.
Nightly
Key West Sunset Celebration
Key West: Each evening, about two hours before sunset, flocks of people gather at Key West's Mallory Square and on the pier behind the Margaritaville Resort & Marina on Front Street to watch the sun slowly sink into the Gulf of Mexico and to revel in the colorful street performers, local artists, psychics and food vendors who have made Key West's Sunset Celebration a world-famous, multicultural happening.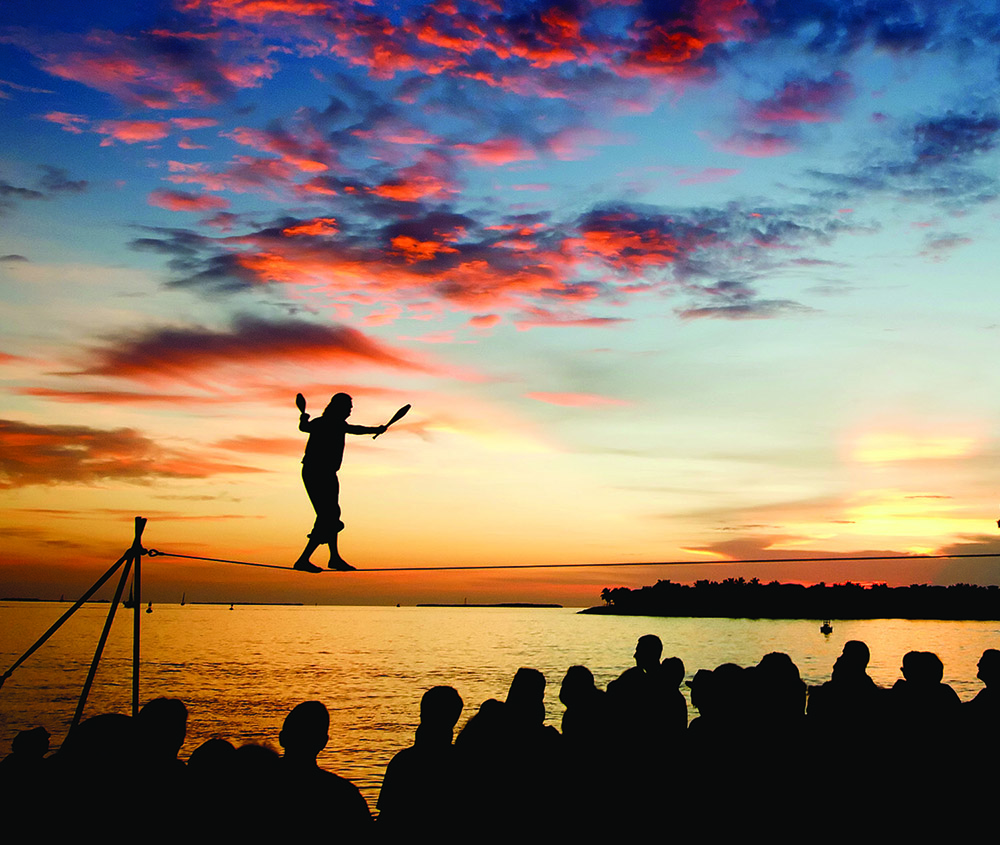 Every Tuesday
Mario Sanchez Original Works & Lecture
Key West: Owner of Key West's renowned Gallery on Greene, Nance Frank has curated multiple exhibits of famed Cuban artist, Mario Sanchez with catalogues for his exhibit presented by The American Folk-Art Museum, The Museum of the City of New York as well as Cuba's National Museum. Her weekly presentation about Sanchez's life and work is absolutely fascinating. Takes place at 2pm every Tues at the Gallery on Greene, 606 Greene St, Key West. 305-304-2323; galleryongreene.com.
Every Wednesday
Aqua Idol
Key West: Now through March 25, "Aqua Idol" is raising money for Key West's beloved Waterfront Playhouse, one of the crown jewels of the island's cultural scene. Needless to say, this special fundraiser draws some of the area's top talent who sing their hearts out for a great cause. Get there early if you want a good seat. Info: 305-294-0555; aquakeywest.com.
Wednesday – Saturday
Cabaret in The Gardens
Key West: Key West's Gardens Hotel is one of the most beautiful boutique hotels on the island and every Weds through Sat from 5 – 7pm, you can enjoy wonderful, live piano music in the Hotel's intimate Cabaret. Full bar and stellar wines are the coup de gras. Find at 525 Angela St, Key West. Info: 305-294-2661; gardenshotel.com.
Every Saturday & Sunday
Big Pine Flea Market
Big Pine Key: Discover all kinds of great finds at unbeatable prices at this long-time Lower Keys Flea Market that showcases an eclectic mix of both used and new merchandise, as well as locally made soaps, tools and tarps, fishing supplies, watches and jewelry, fresh seafood and produce, homemade ice cream, weekend Fish Fry and inflatable park. Open from 8am – 2pm every Sat and Sun through July. Free admission and parking. Find it at 30250 Overseas Hwy, Oceanside on Big Pine Key. Info: 305-872-4103; bigpinefleamarket.com.
Every Sunday
Jazz in The Gardens
Key West: Enjoy some terrific jazz amidst lush flora and fauna during this free hang that draws Key West's top jazz cognoscenti. Full bar, champagne and fabulous wines. Takes place from 5:30 – 8pm at the Gardens Hotel, 526 Angel St, Key West. Info: 305-294-2661; gardenshotel.com.
Monthly
First Thursday Art & Shopping Walk
Key West: Each month, The Studios of Key West (TSKW), along with many other neighboring galleries in the 500 Block of Fleming St, host special exhibitions from 6 – 9pm. More info: : 305-296-0458; tskw.org.
Monthly
Third Thursday Morada Way Art Walk
Islamorada: Fine arts, live music and "culinary art" are the hallmark of this festive monthly event which showcases both national and local artisans in galleries along the Morada Way Arts & Cultural District. Takes place from 6 – 9pm on Old Hwy, MM 81.5, Oceanside, Islamorada. Info: 305-393-6012; moradaway.org.
Monthly
Every Third Saturday Native Plant Sale
Key West: Peruse over 2,000 native, rare and endangered plants from the Keys, Cuba and the Western Caribbean at this terrific monthly plant sale. Takes place from 9am – Noon at the Key West Tropical Forest and Botanical Garden, 5210 Col-lege Rd. Info: 305-296-1504; keywest.garden.
Monthly
First Fridays on Fleming
Key West: "The Fabulous 500 Block of Fleming Street" showcases boutiques, galleries and eateries with all kinds of cool events including jewelry trunk shows, art openings, book signings, tastings and libations. Takes place on Feb 7, March 6 and April 3 from 6 – 9pm. Info: 305-304-9001; shoplocalkeywest.com.
Monthly
First Friday MM 104 Block Party
Key Largo: Stroll among artists, shop for gifts, enjoy street bites from local eateries and more during this fun monthly Block Party. Takes place on the First Friday of every month from 6 – 10pm, rain or shine along the Overseas Highway at mile marker 104 in Key Largo. Info: keylargofirstfriday.com.
Monthly
Second Saturday Art Stroll
Stock Island: The Stock Island Arts District throws open its doors on the second Saturday of each month where you can leisurely stroll about the many art galleries, working studios and eclectic shops. Look for the festive pink "Art District" banners flying at each participating location. Takes place from 11am – 4pm on Feb 8, March 14 and April 11. Info: 305-731-5780; ILoveStockIsland.org.
Monthly
Snook's Luau & Pig Roast
Key Largo: Swivel your hips and feast like a king during this monthly tropical extravaganza that boasts fire dancers, hula dancers, great live music and continuous live entertainment that will keep you jumpin' all night long. The party kicks off at 6:30 pm on Sat, March 21. Reservations a must! Takes place on the waterfront at Snook's Bayside & Grand Tiki, MM 99.9, Bayside, Key Largo. Info: 305-453-5004; snooks.com.
March 7
58th Annual Conch Shell Blowing Contest
Key West: Watch enthusiastic contestants demonstrate their shell-blowing talents in an attempt to make "music" on fluted conch shells. Entry is free and open to all ages. Registration begins at 10:30am and contest begins at noon. Takes place in the garden of the Oldest House Museum, 322 Duval St. Info: 305-294-9501; oirf.org.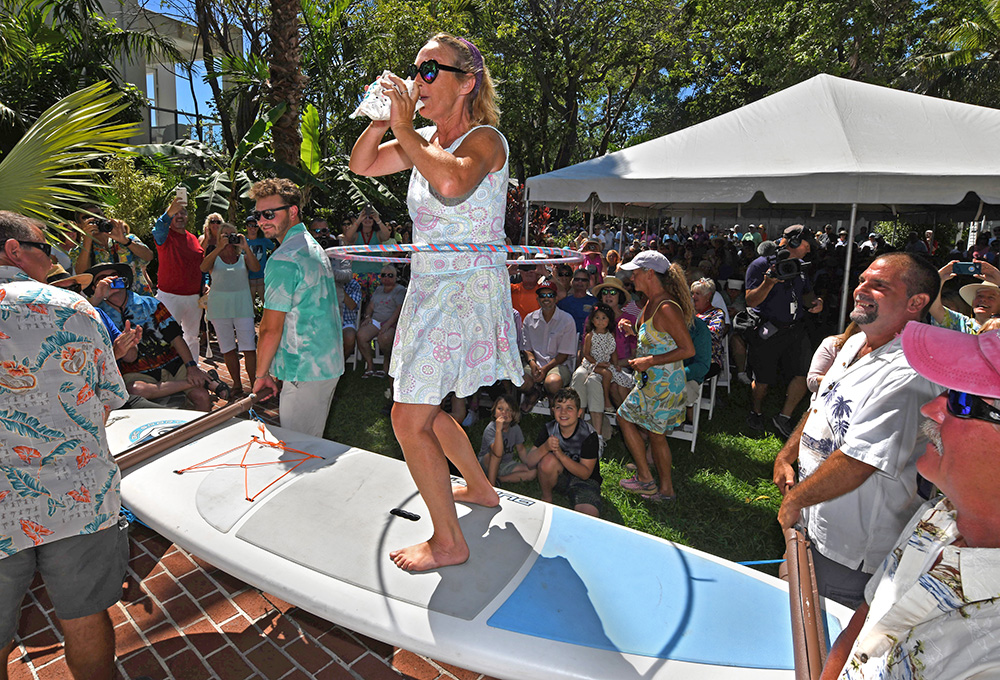 March 7
Annual Open-Air Art & Music Affair
Key West: Enjoy a vibrant arcade of paintings, sculpture, wood carvings, ceramics jewelry and more along with a terrific line-up of entertainment by local and national musicians. Takes place from 9:30am – Midnight at Schooner Wharf Bar. Info: 305-292-3302; schoonerhwarf.com.
March 8
Key Colony Beach Day
Key Colony Beach: This old fashioned, annual event draws a local island crowd who gather for a lazy day of good food, drinks, and music. Start with the Shriners' Pancake Breakfast at 8am, stroll the art and crafts booths, try your luck at the world-famous barracuda races, or bet on your favorite plastic ducky in a "swim" against all odds across the 7th Street Canal. Free admission and parking. Takes place from 8am – 4pm at City Hall Park, Key Colony Beach. Info: KCBCA.org.
March 8 – 9
John Wells Is Still Alive & Living In Key West
Key West: Raconteur Extraordinaire, John Wells, returns with songs and stories to reacquaint you with the old days of Key West with his guitar, mesmerizing voice and unique sense of humor. Catch him at the Red Barn Theatre, 319 Duval St. Tickets and info: 305-296-9911; redbarntheatre.com.
March 9
Tom Rush in Concert
Key West: Tom Rush's shows are filled with the rib-aching laughter of terrific storytelling, the sweet melancholy of ballads and the passion of gritty blues. Showtime 8pm at The Studios of Key West, 533 Eaton St. Info and advance tickets: 305-296-0458; tskw.org.
March 12 & 19
Work In Progress
Key West: Witness the evolution of a script by one of Key West's singular talents. Writer/Director Mike Marrero presents a public table reading of his latest script followed by a lightly produced show a week later. Showtime 8pm at The Studios of Key West, 533 Eaton St. Info and advance tickets: 305-296-0458; tskw.org.
March 13 – 14
60th Annual House & Garden Tours
Key West: Local residents open their doors for a good cause during this popular event where you can tour private homes ranging from colorfully, quirky preserved relics to avant-garde designers' visions. Take place from 10am – 4pm. Info: 305-294-9501. Tickets and tour schedule at oirf.org.
March 14 – 15
Bubba's Fables
Key West: Inspired by classic Aesop's fables, local writers Pony Charvet and Juliet Gray, created "Bubba's Fables," adapting the beloved stories with Key West history and characters. Showtimes: 10am, 11am and 3pm at The Studios of Key West, 533 Eaton St. Info: 305-296-0458; task.org.
March 14 – 15
Original Marathon Seafood Festival
Marathon: The signature culinary and family event celebrates the Keys' bounty with all kinds of gourmet delicacies from the waters of the Florida Keys. Live music, an open-air art show and lots of vendor booths make for a delectable weekend. Open Sat from 10am – 9pm and on Sun from 11am – 5pm. Takes place at Marathon Community Park, MM 49, Oceanside. Info: 305-743-5417; floridakeysmarathon.com.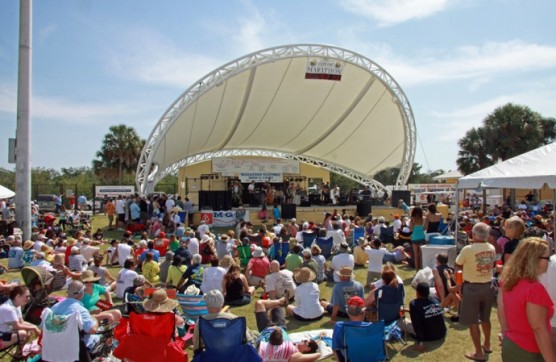 March 22
5th Annual Islamorada Seafood Festival & Art Show
Islamorada: This lively, hometown festival is a local favorite and always draws a fun crowd who take to the street for a day of yummy fresh seafood, culinary delights, fine art, crafts, and jammin' entertainment. Takes place from 11am – 5pm in the Morada Way Arts & Cultural District at MM 81 on Old Hwy in Islamorada. Info: 305-664-8120.
March 28
Pops in The Park
Islamorada: Enjoy "Swaying Sounds of Paradise" by the Keys Community Concert Band at this free bayside outdoor concert. Bring your chairs and blankets. Free admission. Starts at 4pm at the Peace Park, Murray Nelson Center, Bayside, MM 102, Bayside in Key Largo. Info: 305-853-7294; keyscommunityconcertband.com.
March 28
Mote Marine's Annual Ocean Fest
Key West: Celebrate all things ocean during a lively day of great live music, over 80 artists, vendors, conservation exhibitors and crafts-people, along with lots of kids' activities, a huge silent auction and more. Takes place from 10am – 6pm at NOAA's Florida Keys Eco Discovery Center and the Truman Waterfront. Info 305-393-6022; keysoceanfest.org.
March 28 – 29
29th Annual Florida Keys Island Fest
Islamorada: Two full days of music, food and fun including one of the largest crafts shows in the Keys, live entertainment, sandcastle-building, kids' activities, and the annual "Taste Of Islamorada" — a local chefs' competition which happens on Sunday. Free admission. Takes place from 10am – 5pm at Founder's Park, MM 87, Bayside, Islamorada. Info: 305-664-4503; islamoradachamber.com.
March 29
35th Annual Wrecker's Cup Race
Key West: This is the second and third legs of the spirited 7-mile race to Sand Key where bragging rights is top prize. Race kicks off at 1pm with an Awards Party at Schooner Wharf Bar in Key West's Historic Seaport. Info: 305-292-3302; schoonerwharf.com.
April 1 – 3
Dignity, Always Dignity: A Post-Apocalyptic Cabaret
Key West: Following an apocalyptic event in 2022, Tony-nominated Broadway star Bryce Pinkham finds himself stranded, coming to terms with his fate and the fate of humanity. Bryce passes the time attempting to perform the entirety of Singin in the Rain, determined to 'make em laugh' all the way to the end. Showtime 8pm at The Studios of Key West, 533 Eaton St. Info and advance tickets: 305-296-0458; task.org.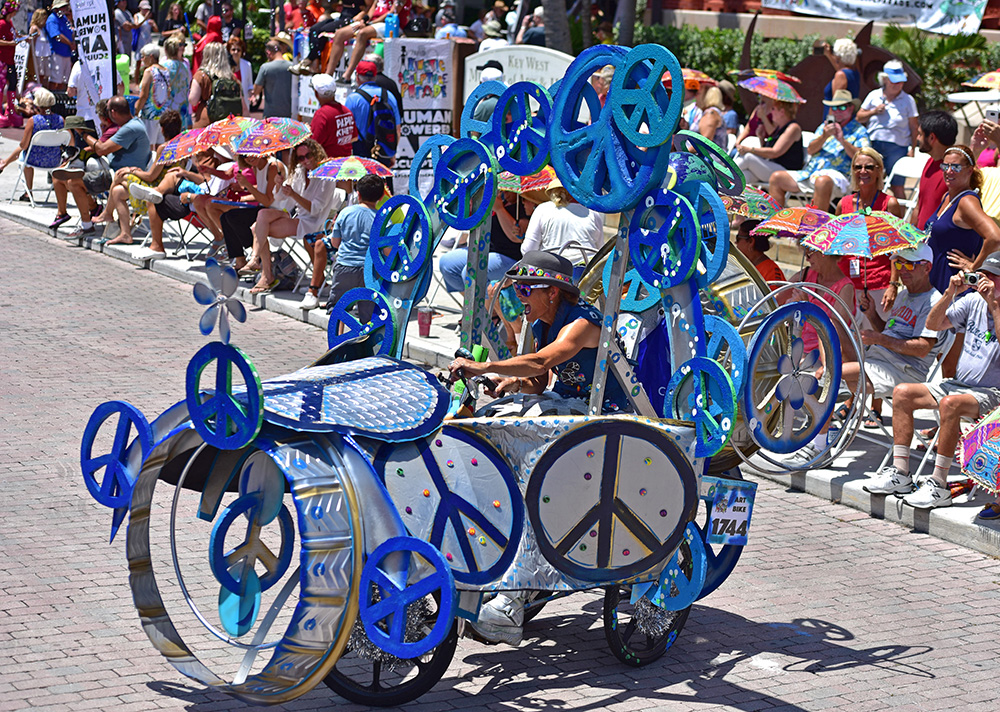 April 3 – 5
5th Annual Papio Kinetic Sculpture Parade & Celebration
Key West: Inspired by, and named for, the late Keys artist Stanley Papio, a humorous rebel metal-artist who explored the value of recycled materials long before it was hip to be rusty. The fantastical, family friendly cavalcade of totally human-powered art sculptures begins at noon on April 4 at the Custom House (281 Front St) and proceeds down Duval St. Info: 305-295-6616; papioskineticparade.com.
April 5
Bay Jam 26
Islamorada: This open-air music and art festival features local and guest artists performing on the shores of Florida Bay. Bring chairs and blankets. Takes place from 11am – 7pm at Founders Park, MM 87, Bayside in Islamorada. Info: 305-394-2765; keysice.com.
April 9
Cary Morin in Concert
Key West: Described as "one of the best acoustic pickers on the scene today," Morin plays with a deft finger style and melodic vocals that veer from elation to gritty world-weariness. Showtime 8pm at The Studios of Key West, 533 Eaton St. Info: 305-296-0458; task.org.
April 13
25th Annual Taste of Key West
Key West: Over 50 top area restaurants and 100+ vineyards present mouthwatering samples of their cuisine to benefit AIDS Help, Inc. Food and wine tickets cost $1 with "tastes" ranging from $3 – $8. The culinary celebration takes place from 6 – 9pm at the Truman Waterfront Pier. Free admission. Info: 305-296-6196.
April 17 – 26
38th Annual Conch Republic Independence Celebration
Key West: Headquartered at Key West's legendary Schooner Wharf Bar, this raucous event commemorates the founding of the Conch Republic. The celebration begins at 7pm on Fri, April 17 with the official "Kick-Off Party" and Conch Shell Blowing Contest at Schooner Wharf Bar followed by all kinds of crazy events throughout the week. Info: 305-296-0213; conchrepublic.com.
April 25
Pops in The Park
Islamorada: This annual bayside concert series wraps up the season with a very special "Young Musicians Concert." Bring your chairs and blankets. Free admis-sion. The concert begins at 4pm at Founders Park, MM 87, Bayside in Islamorada. Info: 305-853-7294; keyscommunityconcertband.com.
April 26
Wrecker's Cup Race
This is the third leg of the popular 7 mile sailing race to Sand Key. Visiting vessels and local captains and crew are all invited to this "all-in-fun" event. Race kicks off at 1pm with an Awards Party at 7pm at the Schooner Wharf Bar in Key West's His-toric Seaport. Info: 305-292-3302; schoonerwharf.com.
May 5
Cinco de Mayo Celebration
Key West: Grab your salt shaker and party with Margarita during this fun, annual celebration that includes live Salsa music, a Taco Eating & Hot Pepper Eating Contest and prizes for Best Mexican Hat. The action starts at 7pm at the Schooner Wharf Bar in Key West's Historic Seaport. Info: 305-292-3302; schooner-wharf.com.
May 6 – 10
Key West Songwriter's Festival
Key West: The 25th annual showcase of musical magic features America's foremost performing songwriters with concerts staged in various venues throughout Key West. Info: 305-304-0814; keywestsongwritersfestival.com.
May 14 – 17
Key Largo Original Music Fest
Key Largo: Four days of multiple musical happenings set the stage, during this eclectic music festival which showcases hit songwriters from Nashville and beyond, as well as an elite group of local and national singers and bands who perform everything from Rock to Country to Blues and more. The festival kicks off on Thurs, May14 at Sundowners Waterfront Restaurant, MM 104, Bayside and continues all weekend long with multiple stages at neighboring Cactus Jacks and Señor Frijoles. Info: 305-394-37; keylargooriginalmusicfest.com.
OTHER FLORIDA HAPPENINGS
March 6 – 15
79th Annual Daytona Beach Bike Week
Daytona: This 10-day high octane party is considered to be the "World's Largest Motorcycle Event" and attracts over 500,000 motorcyclists and enthusiasts who make the annual pilgrimage. Celebrations take place all over town and include street festivals, concerts, motorcycle races at Daytona International Speedway, bike shows, rallies, manufacturer showcases and much more. Info: official-bikeweek.com.
April 25
Hogstown Craft Beer Festival
Gainesville: Enjoy some amazing local and regional small batch brews, food and craft beer pairings, educational seminars, home brewing demos and more during this annual event that celebrates a passion for brewing, beer science and all things craft beer. Takes place from 11:30am – 5pm at Alachua County Fairgrounds, 3100 NE 39th Ave. in Gainesville. Info:352-331-4000; hogtownbeerfest.com.