Chances are that if you've ever been to the Florida Keys and Key West, you've seen the words "One Human Family." But do you know the story behind it? 
The phrase, which is the brainchild of local designer JT Thompson, is not just a slogan,
it's also our official island philosophy. Key West City Commissioners adopted "One Human Family" in October 2000 followed by the Monroe County commissioners in 2001 who embraced "One Human Family" for the entire 125-mile-long Florida Keys island chain.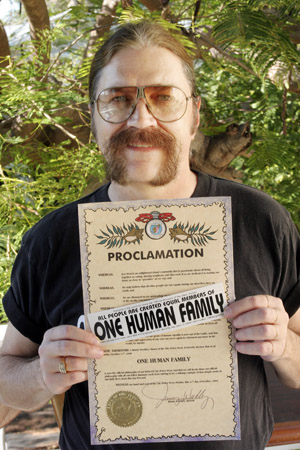 Thompson is passionate about spreading the word and has distributed more than 3 million "One Human Family" bumper stickers and 400,000 wrist bands to people in 95 nations. His unifying message that "All people are created equal members of ONE HUMAN FAMILY" has reached destinations that are thousands of miles from the Keys including the South Pole, Nigeria, Pakistan, Tibet and New Zealand, to name a few,
Recently, demand for distribution of our official Keys philosophy, has undergone a major new resurgence.
"Communities that are working for unity — like Flint, Dallas, Baton Rouge, Orlando, Baltimore, Charleston, Paris and London — are using 'One Human Family' as a rallying point for people to come together," Thompson said.
Thousands of stickers and wristbands have also been distributed at "Burning Man" the annual festival of arts and music which takes place every year in late August at Nevada's Black Rock Desert.
"One Human Family has also been included in speeches and writing by the Dalai Lama, President Obama and even Pope Francis," Thompson said.
Thompson began printing the One Human Family bumper stickers in 2000 to increase awareness of his message of the inherent unity and equality of all people. Key West friends and visitors immediately snapped up the free stickers as demand soared.
"In a world where so many believe the illusion of separateness, understanding human unity is our only healing solution," Thompson said. "Our differences are superficial distinctions and cannot be allowed to be twisted into cultural divisions."
The concept of "One Human Family" has been endorsed by groups as diverse as Carnival Cruise Lines, the Simon Weisenthal Holocaust Museum, Tropicana Orange Juice, General Electric Finance Corp. and the AFL-CIO.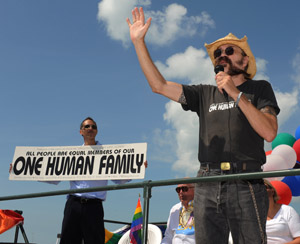 "It's amazing how powerful these three words are," Thompson said. "People have told me they're working to reduce racism, sexism, nationalism, classism and homophobia with use of those words."
"One Human Family" stickers and wrist bands are available for free worldwide. An all-volunteer non-profit group spearheads their distribution, with printing and mailing funded by donations.
Want to know more? Hit up onehumanfamily.info or email JT@DesignKW.com. To order stickers or wrist bands, send a self-addressed stamped, business envelope to One Human Family, P.O. Box 972, Key West, FL 33041.

And that's the rest of the story.