Here in the Keys, Springtime means taking in lots of fun outdoor events, concerts and festivals. One of our particular favorites is the annual Florida Keys Island Fest. Now in its 19th year, the two-day arts and crafts show springs up on Saturday and Sunday, March 28 – 29 at Founders Park (MM87) in Islamorada.
If you've never been to this beautiful bayside respite, this is a perfect time to check it out. During the annual Island Fest celebration, the park and beach area transform into an outdoor musical, artistic and green-market emporium with over 100 exceptional local and national artists, food vendors and terrific live entertainment.
What I really like about this festival is that the artwork and handcrafts are not only top quality but are also really affordable which makes it a great place to pick up a unique Keys keepsake.
Besides strolling the art show and grooving to live music, you can take in an old-fashioned All-American Road Vintage Cruisers Car Show showcasing some very cool cars, trucks, motorcycles and rat rods. Kids can also have their own beachside fun painting, building sand sculptures and competing in hula-hoop contests beneath kite-filled skies.
One of the weekend's special highlights is Saturday's wacky "What Floats Your Boat"race where a fleet of homemade "boats" sets sail from the beach and struggles to stay above water. This event is always a real hoot and is later followed by a bayside concert from 5-7pm at the park's waterfront amphitheater.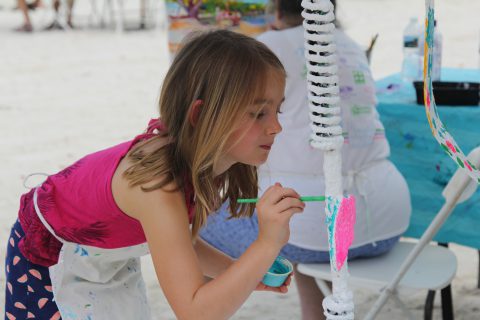 Needless to say, Festival Saturday is always lots of fun but truth be told, my favorite day is Sunday during the annual "Taste Of Islamorada." This friendly culinary competition between local restaurants is your chance to sample lots of scrummy appetizers, entrees and desserts. If you're a dedicated foodie like I am, be sure to buy plenty of "tasting" tickets because you'll have a lot of delectable bites to choose from.
Festival events take place rain or shine on Saturday from 10am to 7:30pm and on Sunday from 10am to 5pm. Admission is free and there's on-site parking available for a small $5 donation. BTW: Organizers suggest that you bring lawn chairs and blankets so that you can fully enjoy the beach and concert.
For more info, call 305-664-4503 or hit up islamoradachamber.com.
Hope to see you there!