There's no arguing that the Florida Keys & Key West embrace a freewheeling exuberance and zest for life — qualities that are reflected in much of the local art.
And there's no better way to experience the "art zest" than with any one of the many Art Strolls that take place every month. These strolls offer a vibrant visual feast — and are a great opportunity to discover off-the-beaten-path galleries and meet the creative spirits behind the work.
Here's a list of some of our favorite Art Walks that you won't want to miss: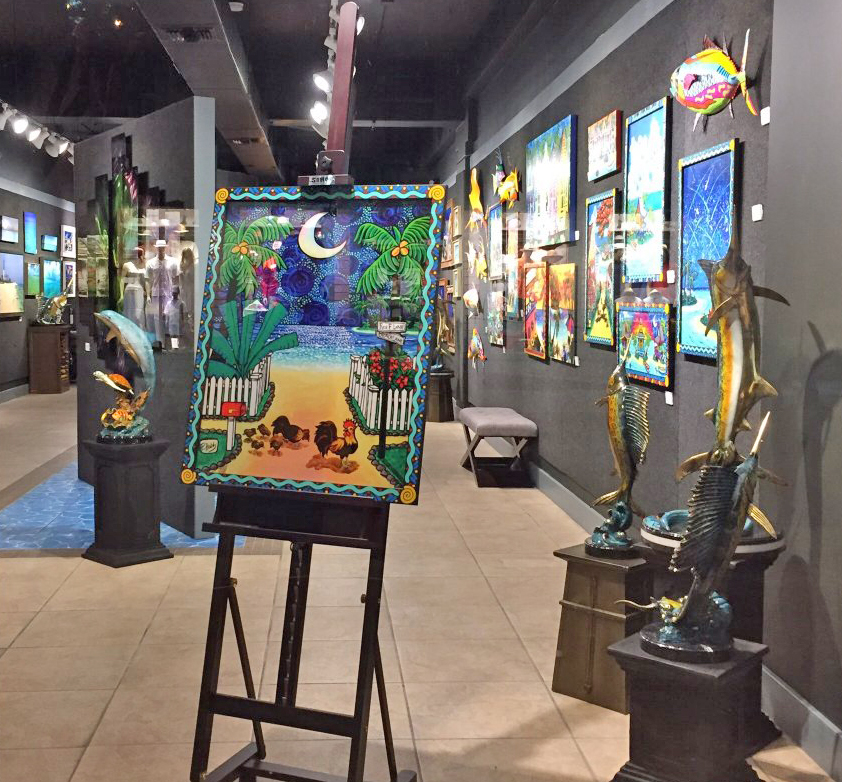 First Thursday Art & Ambiance Walks
Key West: Caroline and Greene streets along with the Historic Seaport neighborhood become the epicenter for this lively event that spotlights local galleries and merchants the first Thursday of each month. Highlight stops are the renowned Gallery on Greene, whose vivid offerings include the humorous images of Pulitzer Prize winner Jeff MacNelly whose work has graced the cover of DESTINATION Florida Keys & Key West multiple times, and the painted bas-relief wood carvings of iconic Cuban-American folk artist Mario Sanchez; Lucky Street Gallery, with featured artists like renowned sculptor John Martini and painter Rick Worth; and Art@830, where collections range from fine glasswork and jewelry to colorful paintings and wood art. Info: keysarts.com.
Third Thursday Morada Way Art WalkIslamorada: Fine arts, live music and "culinary art" are the hallmark of this festive monthly event which showcases both national and local artisans in galleries along the Morada Way Arts & Cultural District. galleries include the Redbone Gallery and the Pasta Pantaleo Signature Gallery, each housing collections of Florida's offshore and inshore saltwater fishing art. Takes place from 6 – 9pm on Old Hwy, MM 81.5, Oceanside, Islamorada. Info: 305-393-6012; moradaway.org.
Third Thursday Walk On White
Key West: One of Key West's best known art strolls, "Walk On White" takes place on White Street from Southard to United Streets and onto Truman Avenue the third Thursday of every month. The popular evening features exhibitions and receptions at galleries, shops and other special venues. Featured locations include Harrison Gallery at 825 White Street, showcasing the elegant sculptural wood pieces of Helen Harrison and the quirky and inviting Stone Soup Gallery at 802 White which features many different local artists. If you turn off White onto Truman Avenue, you'll discover multimedia and renegade art at Art Space Key West at 1102 Truman. Info: WalkOnWhiteKeyWest.com.
First Fridays On Fleming
Key West: Key West boutique owners in "The Fabulous 500 Block of Fleming Street" stage a monthly "First Fridays on Fleming" Block Party that showcases boutiques, galleries and eateries in the 500 block of Fleming Street. There are all kinds of special events including jewelry trunk shows, art openings, book signings, tastings and what every good Block Party needs – libations. Participants include The Roost Bar and Liquor Store, La Rubia Authentic Panama Hats, Key West Island Books, Key West Local Luxe Jewelry, Amanda Johnson Fine Art, Sea Store Antiques, Assortments Menswear, Island Antiques, Duck & Dolphin Antiques, Clemente's Trolley Pizzaria, La Petite Grignote French Bakery, Thirsty Mermaid Seafood and Jean Pierre Klifa Resort Wear. Next one takes place on April 3 from 6 – 9pm. Info: ShopLocalKeyWest.com
First Friday Upper Duval Street Stroll
Key West: A portion of Key West's famed Duval Street known for its eclectic galleries comes alive with art exhibitions, receptions and culinary offerings during the monthly Upper Duval Street Stroll. Participants can explore galleries, boutiques and food and wine emporiums during the event that usually takes place the first Friday of each month. Featured locations include SoDu Gallery, Cocco and Salem Gallery, and Gingerbread Square Gallery. Info: keysarts.com.
The Studios of Key West
Key West: The Studios of Key West at 533 Eaton Street exhibits contemporary art and hosts rotating gallery exhibits as part of Key West's monthly art strolls as well as offers classes, lectures, performances, gallery exhibits, partnership projects and special events. Info: tskw.org.
Stock Island Art Districts Second Saturday Art Stroll
Stock Island/Key West: Funky little Stock Island now has its very own Arts District which includes a variety of eclectic shops and working studios that showcase everything from sculptures, woodworking, painting and mosaics to screen printing, soaps, and fabric art. You can "stroll at leisure" from 11am to 4pm between the studios and shops where some artists offer drawings for great prizes as well as delicious food and beverages. Participating locations include Collections Key West at Safe Harbor Marina, The Art Shack at 6404 Front Street, The Shops at Perry Hotel, The Studios at Stock Island Marina Village and Washed Up Studios. There are also a few stand-alone studios that are open for viewing including Yodanis Studios. Look for the bright pink 'Arts District' banners flying proud at each location and follow the route on the mobile map which you can access at ILoveStockIsland.org. It's free to attend and free to park.
Key West Artisan Market
Key West: Shop a curated outdoor market offering fine crafts, art and jewelry from talented Florida Keys makers. Stock your pantry and fridge with fresh produce, artisan cheeses, local seafood, honey, pickles and so much more. Takes place on Sundays from 10am to 2pm at Clarence H. Higgs Memorial Beach. The market is conveniently located close to the free West Martello Tower botanical gardens, White Street Pier and of course, the alluring Atlantic ocean. Info: 305-731-3385.