If you want to experience the Keys the way they used to be, then head on over to Porky's Bayside in Marathon. Originally known as Bill Thompson's Villa and Marina, it was the place to be in the 1950's and hosted all sorts of famous visitors including Ernest Hemingway, Jimmy Hoffa and Elizabeth Taylor.
Today, Porky's Bayside is still the place to be. Overlooking Capt. Pip's Marina & Hideaway at MM 47.5, Gulfside, this funky, open air restaurant and bar is a local favorite known for its roug hewn waterfront setting, top live entertainment and real down home barbeque.
We're not talkin' Arby's here. When we say barbeque, we mean REAL BARBEQUE. The kind of lip-smackin', finger-lickin' roll-up-your-sleeves barbeque that keeps you coming back for more. You can order up Porky's famous Smokehouse BBQ Pork and Beef, North Carolina Hot Pepper Pulled Pork or Citrus Marinade Cuban Pork as a lumberjack-size sandwich or in a big basket with your choice of baked beans, french fries, coleslaw, corn on the cob or potato salad. For a buck more you can get sweet potato fries or onion rings. The juicy Quarter Smokehouse Chicken and Quarter Rack of fall-off- the-bone spareribs are also a good bet and you can order those up separately or as a Dinner for Two with a choice of four side dishes.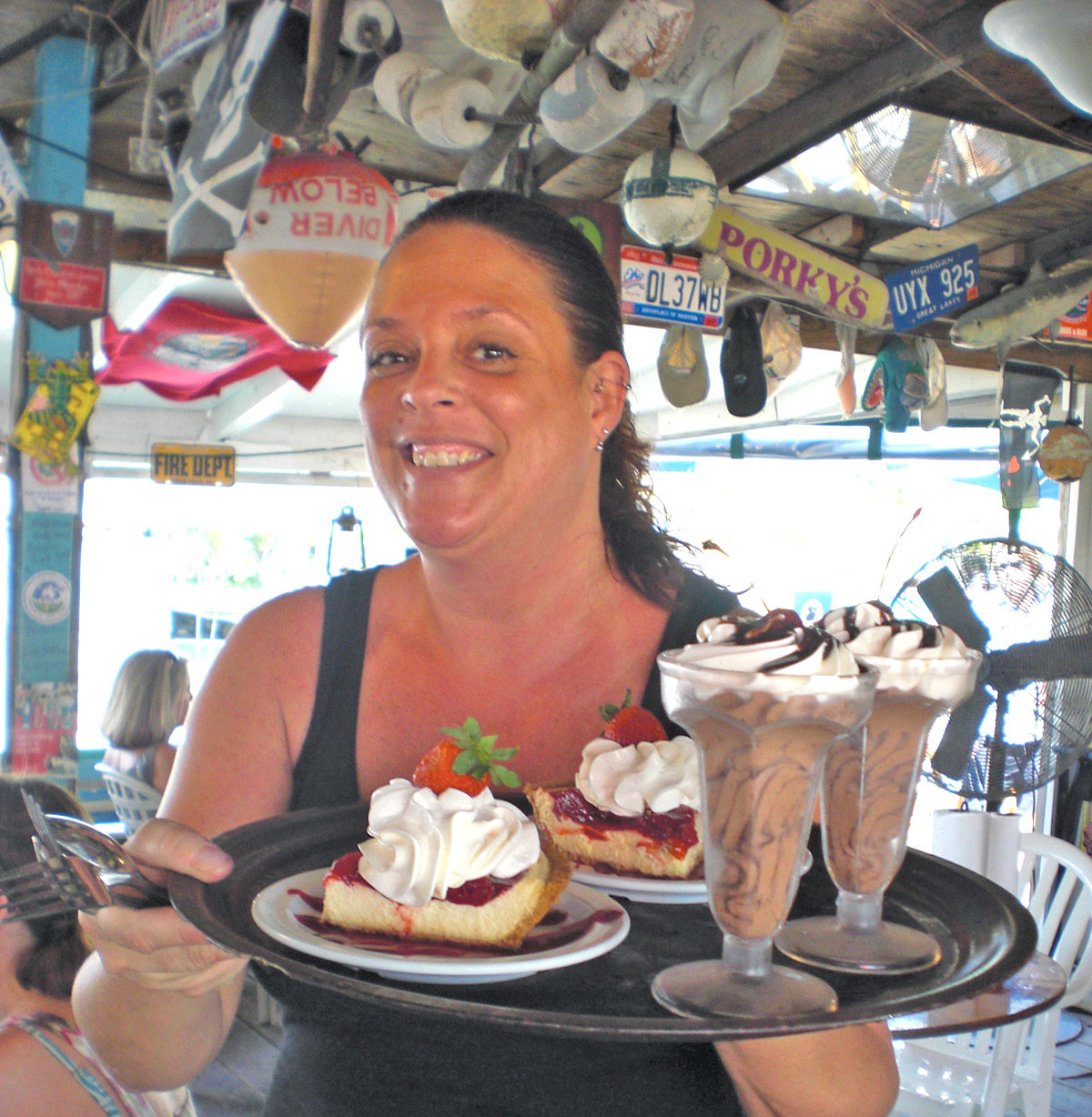 Even if you aren't into down home barbeque, you'll totally enjoy the fresh local seafood at Porky's. Especially good is the Lobster Bisque, Asian Seared Sashimi Tuna, Gulfstream Mahi-Mahi and Florida Bay Jumbo Shrimp.
Whichever way you go, just be sure to save room for Porkys original Fried Key Lime Pie. It 's a total out-of-bodyexperience that's worth every last calorie! Open daily 11 a.m. – 10 p.m. Live music nightly. Beer and wine. Major credit cards. Located at MM 47.5, Gulfside, Marathon. 305-289-2065; PorkysBaysideBBQ.com.