There has been a huge boom in craft distilleries opening across the country and Florida is no exception.
 Visiting these distilleries has become a great new pastime and is a terrific way to meet the distillers, socialize and learn how the spirits are made.
Florida's craft rum distilleries are among the most fun ones to visit so we've compiled a "Florida Rum" trail that takes you from Northern Florida all the way down the Key West – Florida's southernmost paradise. These distillers are always glad to meet you. Most will provide samples, show you the facility and sell gift items. Some have small restaurants and bars right on premises.
Distillery Tour times are listed below but do change so it's always best to call in advance. Cheers!
NORTHEAST FLORIDA
St Augustine Distillery
112 Riberia St.
St Augustine, Fl 32084
904-825-4962
staugustinedistillery.com
Open M-Su 10am – 6pm
Tours M-Su 10:30 – 5pm
This local collaborative distills super premium, small batch spirits including Pot Distilled Rum made from select, regional sugarcane syrups and molasses. Each batch is fermented, distilled, and aged on-site. You can take a free tour of the distillery and see how the spirits are mixed, mashed, cooked and distilled in the historically renovated ice manufacturing plant from 1917. Distillery tours begin every half hour and include a free tasting. There's also a restaurant on site which is open Mon-Fri for lunch (11:30am – 2:30pm) and nightly for dinner (5 – 10pm), as well as a bar which is open on Sun. and Mon from 11:30am – midnight and 11:30am – 2am during the rest of the week.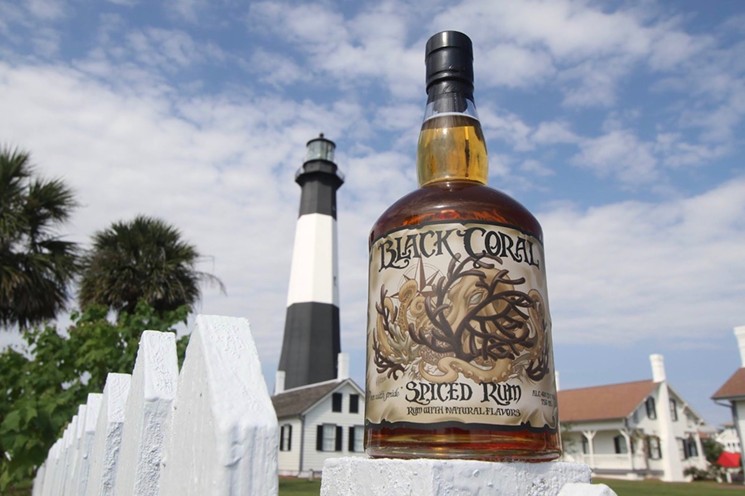 SOUTHEAST FLORIDA
Black Coral Rum
1231 W 13th St,
West Palm Beach, Fl 33404
561-766-2493
blackcoralrum.com
Call to schedule a tour
This authentic, family owned American craft distillery donates $1 from the sale of every bottle of their award-winning Black Coral Rum to US Veterans organizations. The traditional oak-aged rum is flavored using all natural ingredients and is carefully blended in individual batches so that it's not too harsh nor too bland.
Citrus Distilleries
6710 Garden Road, Bay-2,
Riviera Beach, Fl 33404
855-POT-MASH
citrusdistillers.com
Open M 9am – 5pm
This artisan micro distillery specializes in Craft Rums as well as Artisan Whiskies and Specialty Spirits. Thinking about starting your own spirit brand? This distillery specializes in building brand new spirit products for the public and private markets.
Marlin & Barrel Distillery
115 South Second St.
Fernandina Beach, Fl 32034
321-230-4755
marlinbarrel.com
Open W – F 11am – 5pm; Sa & Su 11am – 3pm
Marlin & Barrel Distillery is a Craft Distillery on Amelia Island that handcrafts Bearing Rum, as well as vodka, gin and cello. The Tasting Bar here won't disappoint.
FWAGO Handcrafted Rum
at South Florida Distilleries
2612 South Federal Highway, Bay 2
Ft. Lauderdale, Fl 33316
954-541-2868
southfloridadistillers.com
Open M – F Noon – 5pm; Sa & Su by Appointment
Reserve Private Tasting & Tour Online
Produced by Florida's oldest distillery, this truly excellent, handcrafted line of rum
includes Grilled Pineapple Rum, Single Barrel Rum and Silver Rum. Distilled from locally sourced high-grade molasses, using a slow fermentation and small cuts to develop uniquely rich flavors and a smooth finish fresh from Florida.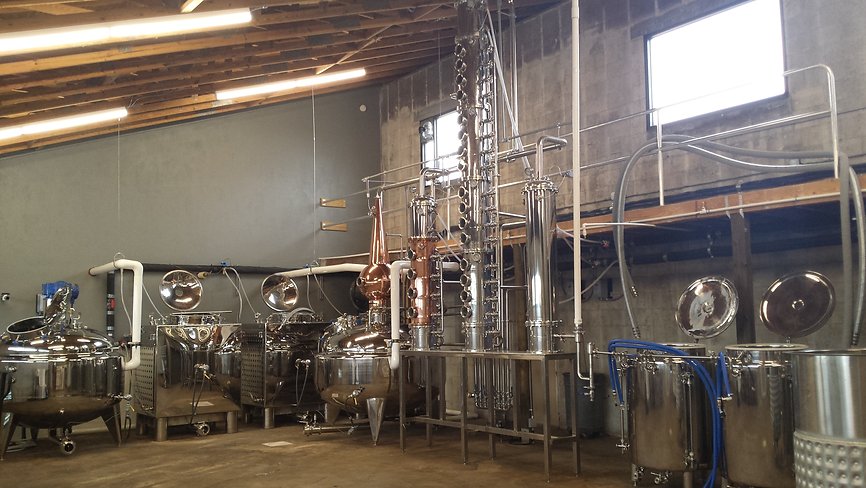 Copper Bottom Craft Distillery
998 N Beach Street
Holly Hill, FL 32117
386-267-5104
copperbottomspirits.com
Tours: W-F: 5-8pm
Sa: 11am-8pm
Handcrafted and distilled in small batches using unrefined sugar cane,
this premium Silver Rum boasts notes of butterscotch and vanilla, with a smooth, creamy finish that reflects unique artisanship weaved into the distilling process. Designed to compliment all types of mixology.
Big Cypress Distillery
13995 SW 144th Ave
Miami, Florida 33186
786-228-9740
bigcypressdistillery.com
Open F 4 – 8pm; Sa Noon – 6pm
Reserve your tour online
This Miami based craft distillery is a family affair. Cousins Fernando and Mark and in-law Danny founded the distillery in 2015 from a shared passion for American craft whiskey, craft rum, and south Florida artistry.
SOUTHWEST FLORIDA
Drum Circle Distilling
2212 Industrial Blvd,
Sarasota, Fl 34234
941-702-8143
drumcircledistilling.com
Open Tu – Sa Noon – 5pm;
Call For Tour Times
Locally made from Florida sugarcane, Siesta Rum is hand-crafted from start to finish in small batches using a copper pot still. Tours run about 50 – 60 minutes and include free samples in the tasting room.
Alligator Bay Distillers
25522 E Marion Ave,
Punta Gorda, Fl 33950
941-347-8419
alligatorbaydistillers.com
Open M – W 9am – 5pm; F 9 am – 5pm;
Sa 11am – 4pm
"Cane to Bottle" is the motto of Brothers Alex and Ben Voss who handcraft their rum with 100% Florida molasses sourced at the Clewiston sugar mill located 70 miles east of their distillery. Their line of rum includes Sun Gold, Dark, Spiced, Pineapple and Coconut. Free tours and tastings. Walk-ins welcome.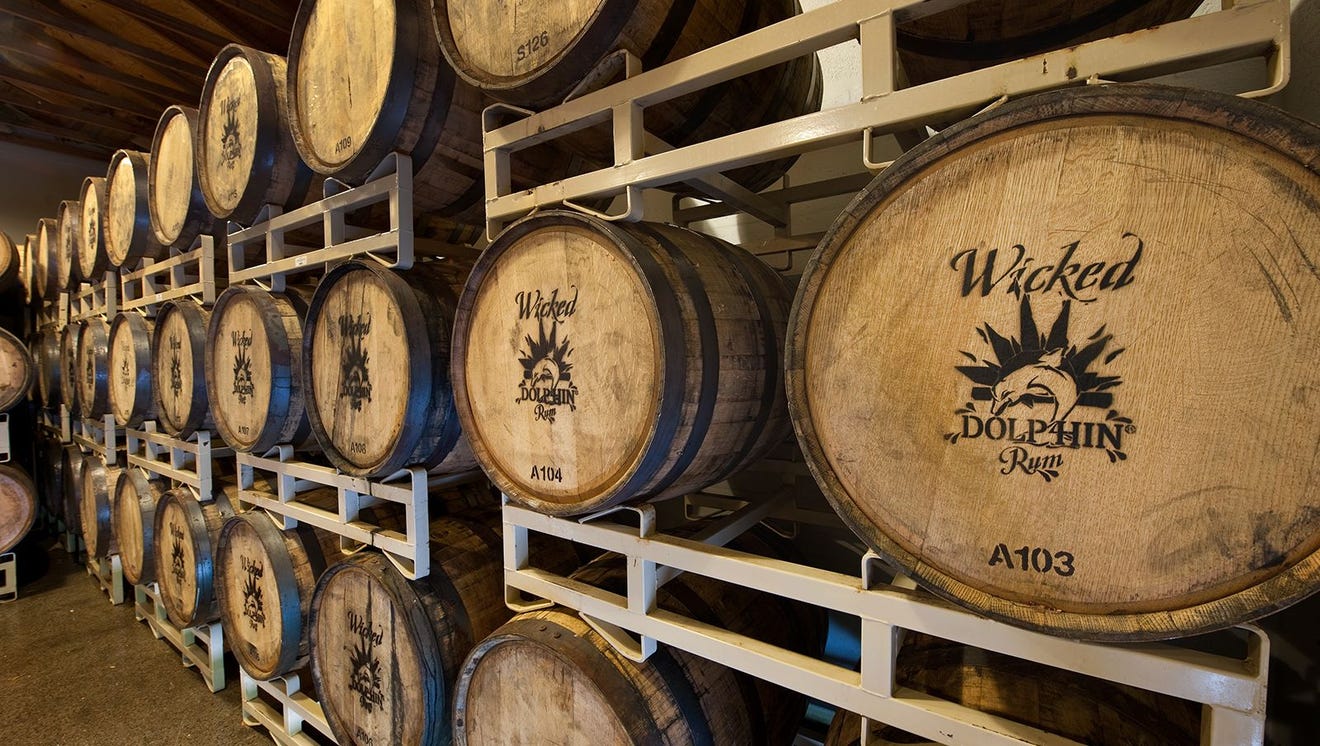 Wicked Dolphin Distillery
131 SW 3rd Place
Cape Coral, FL 33991
239-242-5244
wickeddolphin.com
Open M – F 9am – 5pm
Tour Reservations available by phone or online.
The family run distillery produces award winning barrel aged rums handcrafted with 100% Florida sugar and other local, natural ingredients. Distillery tours, which take place on Tues., Thurs. and Sat., take you through the steps of sourcing ingredients, cooking, fermenting and distilling. After the tour, you can head to the Tasting Room to sample different rums including new ones that are in production.
SUN COAST
Loaded Cannon Distilled Spirits
3115 Lakewood Ranch Blvd, STE 110
Bradenton, FL 34211
941-900-1482
loadedcannondistillery.com
Open W – Th 2 – 6pm; F & Sa Noon – 7pm; Su 1 – 6pm
Weekend Tours every 30 minutes; W & Th by appt.
This family owned and operated distillery crafts its rum to bring back that pirate spirit. Their 
secret is combining the right balance of dark sugar, molasses and an all copper still for clarity. They also have a unique aging process and special yeast creating a rum suited both for blending or sipping. Great taste without the overpowering sweetness often seen these days. In addition to the handcrafted white and dark rum, they also produce several flavored varieties including spiced, toasted coconut, butterscotch and vanilla.
KEY WEST
Key West First Legal Rum Distiller
105 Simonton St
Key West, Fl 33040
305-294-1441
Keywestlegalrum.com
Open M – Sa 10am – 8pm;
Su 10am – 6pm
Free tours M – Sa 1, 3 & 4pm
This chef-owned distillery brings out the best flavors in their original, locally produced white rums which are made with Florida sugar and infused with different flavors including Coconut, Vanilla Creme Brûlée and real Key Lime. These 6x "Chef Distilled" specialty rums also come jarred as rum cake – yum!
Key West Distilling
524 Southard St
Key West, Florida 33040
305-295-3400
kwdistilling.com
Open M – Sa 10am – 5pm
This small craft distillery offers premium rums, whiskey and vodka made in Florida's southernmost paradise. Using slow, age-old distilling processes, the spirits taste unlike any others and the product line here is currently expanding.
Hemingway Rum Company
201 Simonton St,
Key West, Florida 33040
305-414-8754
papaspilar.com
Open Daily 9am – 6pm
Guided Tours every hour – Tickets $10
Inspired by Ernest Hemingway's spirit of adventure, the Florida-based Hemingway Rum Company artisan crafts super-premium multi-sourced solera blended artisanal rums hand-selected from the Caribbean, Central America and the US. The Company's inaugural offerings are the bold and complex Papa's Pilar® Dark and Blonde rums which are sourced, aged and blended to reflect rum's gutsy roots.