Xplore
---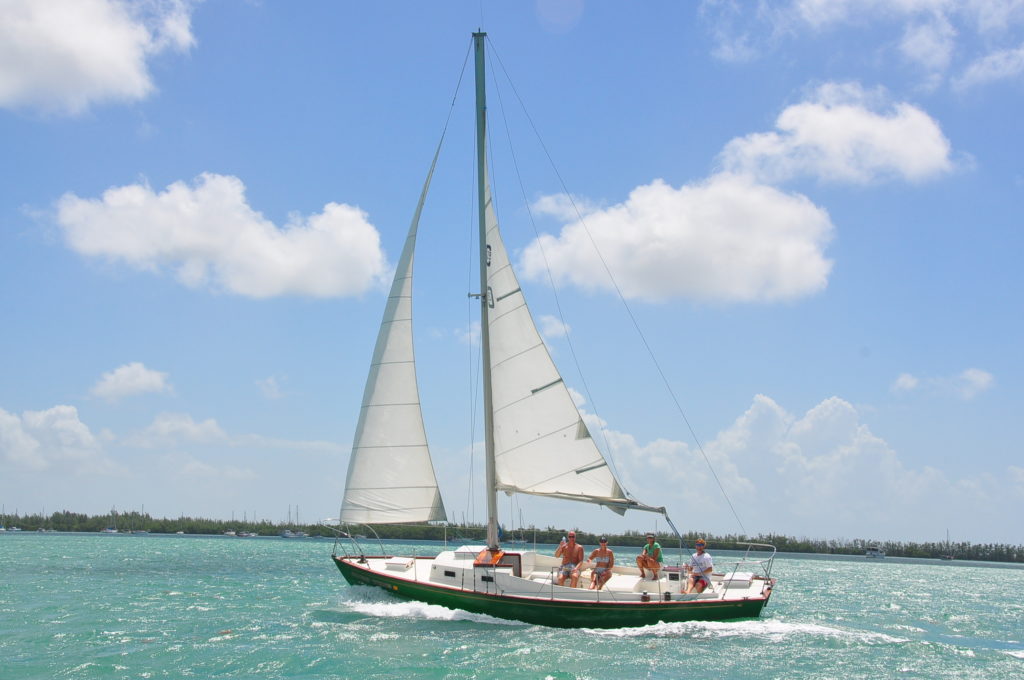 The Florida Keys & Key West are one of the best places in the world to experience sunset sails, fishing, kayaking, snorkeling, deep water diving and back country adventures. There are also plenty of unique attractions, historical sights, museums and theatrical productions that will capti-vate you from morning to night
UPPER KEYS
COOPERTOWN AIRBOATS
22700 SW 8th Street
US 41 – Tamiami TrailMiami, FL 33010
305-226-6048
coopertownairboats.com
Seasonal Hours
Home of The Original Airboat Tours
Enjoy the pure thrill of an airboat ride across a "river of grass' in what the Miami Herald and New York Times rates as "Florida's Best." You'll fly right into the heart of the Everglades, America's most unique and fragile ecosystem where you can explore a wide prairie of open saw grass, travel through Hardwood Hammocks, visit alligator holes and see an abundance of unique Everglades wildlife.
Hurricane Monument
MM 82, On The Median
Islamorada, FL 33036
305-664-4503
Open 24/7
National Historic Site
Created in 1937, this national historic site memorializes the hundreds of World War I veterans and civilians who lost their lives in the Florida Keys' worst natural disaster – the infamous Labor Day Hurricane of 1935. As part of the National Register of Historic Places, the monument marks a crypt which contains the skeletal bones and cremated remains of more than 400 victims.
Indian Key Historic State Park
Offshore Island, MM 78.5 Oceanside
Islamorada, FL 33036
305-664-2540
floridastateparks.org
Open Daily 8 am – Sunset
Historic Indian Site
This tiny island once housed the largest population between St. Augustine and Key West and was also home to one of the Keys' most lucrative ship wrecking empires. In 1840, Indian warriors burned all the structures andkilled most of the residents. Accessible only by boat, it's a fantastic spot to swim, kayak and hike. Boat shuttle and kayak rentals available from Robbie's Marina at MM 77.5, Gulfside.
John Pennekamp Coral Reef Park
MM 102.6, Oceanside
Key Largo, FL 33037
305-451-6300
pennekamppark.com
Open Daily 8 am – Sunset
America's First Underwater Park
Approximately 21 miles long and four miles wide, this national treasure is famous for its spectacular coral gardens, 600+ species of exotic fish, turtle and old sailing wrecks. Plenty of activities throughout the park so there's lots to do and see. There are also two beaches, campsites, picnic areas, a Visitors Center, Gift Shop, Dive Shop and Concession Stand.
Lignumvitae Key Botanical Park
Offshore island, MM 78.5, Gulfside
Islamorada, FL 33036
305-664-2540
Open Th – M 8am – 5:30pm; Tours F-Su
With its thriving virgin tropical hardwood hammock, this nature preserve has been called "the last place that truly represents the Florida Keys." In 1919, a wealthy Miami chemist bought the tiny island and built a caretaker's home which is now a Visitor Center for the island forest. Ranger-guided tours. Accessible only by boat. Boat shuttle and kayak rentals available from Robbie's Marina at MM 77.5, Gulfside, Islamorada
MIDDLE & LOWER KEYS AREA
Bahia Honda State Park
MM 37, Oceanside
Big Pine Key, FL 33043
305-872-2353
bahiahondapark.com
Open Daily8am – Sunset
One Of The Nation's Top Beaches
Often cited as one of the nation's "Top 10 Beaches," this glorious palm studded beach, with its beautiful crystalline water, offers superb swimming and snorkeling close to shore. In addition to the beach, the Park's 524 acres of subtropical flora and fauna, nature trails, cabins, campsites and boat ramps make it a nature lover's dream. Snorkeling and windsurfing rentals available. Admission fee.
Dolphin Research Center  The Dolphins' Tale
Marathon: Flashback to the mid 1950s when a Grassy Key fisherman named Milton Santini begins collecting bottlenose dolphins to sell to aquariums and attractions. Two years into it, Milton catches a dolphin who he names Mitzi but before he can transport her to one of his customer's facilities, a back injury sidelines him. For the next several weeks, Milton hangs out recovering by the dolphin pool and soon he and Mitzi begin to bond.
Read More
Dolphin Research Center
MM 59, Gulfside
Grassy Key/Marathon, FL 33050
305-289-1121
dolphins.org
Open Daily 9am – 4:30pm
One Of The Keys Oldest Dolphin Facilities
Founded in 1984 as a non profit marine mammal education and research facility, the DRC is one of the oldest dolphin facilities in the Keys. There are several sensational opportunities here for up close introductions with many exciting interactive programs available daily, as well as educational narrated sessions. Advance reservations are usually required for dolphin swims.
Historic Pigeon Key
Offshore Island
Marathon, FL 33050
305-743-5999
pigeonkey.net
Open Daily 10am – 4pm
Step Back In Time
This tiny coral island was the original work camp for workers who built the Key West extension of the Flagler Railway and once housed a thriving village of more than 400 people until the railroad's demise in 1935. Today you can tour the island's historic buildings, picnic on the lawn or snorkel in the shallow bay. Ferry departs from Knight's Key, MM 47, Oceanside on the north side of the 7 Mile Bridge at 10 a.m., 11:30 a.m., 1 p.m. and 2:30 p.m.
Reelax Charters
Sugarloaf Marina
MM 17, Gulfside
Sugarloaf Key, FL 33042
305-304-1392
keyskayaking.com
Call For Hours
Explore The Backside Of Paradise
Capt. Andrea Paulson loves hanging out in the Backcountry and for the last ten years she's been sharing it with friends and guests. Her spectacular all-inclusive kayak tours take you to the backside of paradise where you can glide through the calm, pristine waters of the Gulf, swim and snorkel, stroll along remote sandy beaches or just relax on a peaceful island. Families and small groups are all welcome.
Turtle Hospital
MM 48.5, Gulfside
Marathon, FL 33050
305-743-2552
turtlehospital.org
Open Daily 10am – 4pm
The World's Only Certified Sea Turtle Hospital
The only state-certified veterinary hospital in the world for sea turtles, this unique non profit organization is also the only facility that rehabilitates injured sea turtles (up to 70 per year) and releases them back into the wild. You can engage in educational discussions, get a behind-the scenes look at the hospital and enjoy a fascinating guided tour through the turtle rehab area. Reservations required.
KEY WEST
East Martello Museum & Gallery
3301 South Roosevelt Blvd
Key West, FL 33040
305-296-3913
kwah.com
Open Daily 9:30am – 5pm
Home Of Robert The Haunted Doll
Built in 1862 by the U.S. Army to protect Key West's Ft. Zachary Taylor from Confederate attack, this historic military fort is filled with unique artifacts and memorabilia. You can tour the grounds and see displays of Florida Keys' history, meet Robert, the haunted doll, and view junkyard sculptures by Stanley Papio and the painted wooden carvings of acclaimed artist, Mario Sanchez.
Ernest Hemingway Home & Museum
907 Whitehead Street
Key West, FL 33040
305-294-1136
hemingwayhome.com
Open Daily 9am -5pm
Retrace The Footsteps Of Hemingway
A registered Historic Landmark and one of Key West's most historic and unique legacies where the late Nobel Prize winner, Ernest Hemingway was motivated to write some of his best works including "To Have and Have Not," a novel about Key West during the Great Depression. Take a leisurely stroll through his studio, home and gardens and meet some furry descendants of the Hemingway's legendary six-toed cat.
Fort Zachary Taylor
End Of Southard Street Off Whitehead
Key West, FL 33040
305-295-0037
fortzacharytaylor.com
Open Daily 8am – Sundown;
Tours of The Fort Daily @ Noon
Home Of Key West's Famous Civil War Fort
Designated as a National Historic Landmark in 1973, this popular 87-acre state park is anchored by a famous Civil War fort which plays host to several special events throughout the year. The beach here is shaded by several acres of Australian pine trees so it's always a bit cooler than the rest of the island. Good deep water swimming, chair rentals, grills, restrooms and a concession stand.
Gulfstream IV Party Fishing Boat
Historic Charter Boat Row
1801 N. Roosevelt Blvd.
Key West, FL 33041
305-296-8494
gulfstreamkeywest.com
Open Daily 10am – 4pm;
Night Fishing April 15 – August 29
Party Boat Fishing With The Locals
This 58' family-friendly party boat holds  up to 65 people with daily 3/4 day fishing trips from 10 a.m. – 4 p.m. at only $65 p.p. Also available for private  fishing charters, memorial services,  sunset wedding ceremonies and other special occasions. Full galley with snacks and drinks. Season pass holders always guaranteed a stern seat. Save 10% when you mention DESTINATION FLORIDA KEYS Promo Code TH10.
Key West Custom House
281 Front Street
Key West, FL 33040
305-295-6616
kwahs.org
Open Daily 9:30am – 4:30pm
National Landmark & Museum
Originally home to the island's customs office, postal service and district courts, this architectural marvel was built to keep pace with the increasing population and wealth generated by Key West's lucrative trade routes and maritime industries. Today, this beautifully restored national landmark is home to an award-winning museum and the official headquarters of the Key West Art & Historical Society.
Key West Lighthouse & Keeper's Quarters
938 Whitehead Street
Key West, FL 33040
305-294-0012
kwahs.org
Open Daily 9:30am – 4:30pm
A Tribute To Key West's Maritime Heritage
Originally "manned" by a woman keeper when it opened in 1848, the Key West Lighthouse is now one of the island's most iconic attractions where you can walk up 88 steps to the top of the light for a birds-eye view of Key West and explore the belongings, photographs and words of the lighthouse keepers who bravely kept the light burning through threats of war and weather.
Key West Tropical Forest & Botanical Garden
5210 College Road
Stock Island/Key West, FL 33040
305-296-1504
keywestbotanicalgarden.org
Open Daily 10am – 4pm
Not To Be Missed
The only frost-free botanical garden in the continental U.S. is home to many endangered flora and fauna and includes 200 species of tropical trees and plants, over 100 species of butterflies and rare birds and two of the Keys last remaining fresh water ponds. Four self-guided tours take you through a lush canopy of tropical palms and trees in a meandering 7-acre setting. Visitors Center and free parking.
Mallory Square Sunset Celebration
Historic Waterfront
Key West, FL 33040
305-294-2787
Nightly
World-Famous Happening
Each evening, about two hours before sunset, flocks of people gather at Key West's Mallory Square to watch the sun slowly sink into the Gulf of Mexico and to revel in the colorful street performers, local artists, psychics and food vendors who have made Key West's Sunset Celebration a world-famous, multicultural happening. If you're really lucky you may even witness the rare "Green Flash".
Mel Fisher Maritime Museum
200 Greene Street
Key West, FL 33040
305-294-2633
melfisher.org
Open M – Su 8:30am – 5pm; Sa & Su 9:30 am – 5 pm
A Bounty Of Shipwreck Treasures
The legendary Mel Fisher and his team of treasure hunters come to life at this fascinating maritime museum that displays a bounty of precious loot salvaged from the Spanish Galleon, Atocha, which sunk off of Key West over 400 years ago. Treasure coins, gold, emeralds, swords and more are all on display here along with special historical exhibits that explore maritime history.
Schooner Jolly II Rover
Historic Seaport
Key West, FL 33040
305-304-2235
schoonerjollyrover.com
Call For Sailing Schedule
Best Sunset Sailing Adventure
Rediscover old world sailing aboard this classic 80' Caribbean coastal sailing ship – the same kind used by famous pirates, rum runners and those adventurous souls who sailed the Keys over 100 years ago. Romantic daily sunset sails, private day sails, weddings, special events, corporate outings, overnight excursions, educational courses and more. Book direct and ask for your special DESTINATION FLORIDA KEYS rate.
Sunset Watersports 12 Watersport Activities Guaranteed to Wear You Out

Key West: Water junkies take note: you do not, we repeat, you do not want to miss Key West's "Do It All" Ultimate Watersports Adventure. If you've got what it takes, Sunset Watersports' 6 hour, non-stop workout, is as challenging as it is fun. Now there are lots of watersports companies in the Keys but with 12 different activities and trips, along with five different locations, nobody does it better than Sunset Watersports.Pace yourself, because Key West's most notorious watersports gurus will immerse you in an action-packed day with back-to-back activities that are guaranteed to wear you out.
Read More
Sunset Watersports
201 William St.
Key West, FL 33040
305-901-0728
SunsetWatersportsKeyWest.com
Open Daily
Guaranteed To Wear You Out!
With 12 different activites and trips, this family owned watersports outfit boasts the largest selection of watersports activities in Key West. Water junkies will love the original "Do It All" Watersports Adventure which includes a full day of snorkeling, jetskiing, parasailing, windsurfing, kayaking and more. You can book any of these activities individually, as well, along with four different snorkel trips and an exciting Dolphin Watch excursion. At the end of the day, head out on a luxury 65' catamaran for a spectacular Sunset Cruise or Dinner Cruise.  FYI: If you feel like doing your own thing, Sunset Watersports has the lowest priced boat rentals on the island.
Southernmost Point Monument
Corner of Whitehead & South Streets
Key West, FL 33040
305-294-2587
Open 24/7
A True "Kodak Moment"
"The most photographed icon in the Keys" does, indeed, provide a true "Kodak Moment" for virtually everyone who visits here. The larger-than-life buoy commemorates the  southernmost spot in the continental U.S and  stands next to a plaque memorializing the  Cuban refugees who drowned in their attempts to reach America which lies just 90 miles from their native homeland.