Shop & Relax
---
Shopping in the Florida Keys and Key West is an adventure unto itself. Florida's final destination boasts hundreds of interesting shops, stores and over 90 eclectic galleries spread over 43 islands. Keep your eyes peeled as you travel along the Overseas Highway — the Florida Keys version of "Main Street, USA" — because you'll discover all kinds of unique shops in places that you would least expect!
FLORIDA KEYS AND KEY WEST
---
Boho Chic Antica Sartoria Italian Resort Wear
It was the small turquoise fish logo that first caught her eye. As Renée Schaefer and her husband Curtis Sigretto explored the small picturesque town of Positano on Italy's breathtaking Amalfi coast, they stumbled upon a small boutique called "Antica Sartoria." The store's unique fish-shaped logo drew the couple inside where they discovered clothing that was very different from anything in the States. Antica Sartoria's clothing designs were boho chic – fresh, inspiring and offering gorgeous statement-making pieces. Established during a fashion revolution in the '60s when the famous "Moda Positano" style was born, all of Antica Sartoria's clothes are designed by Giacomo Cinque who so loved embroidery and blending patterns that he started his own line of clothing, incorporating daring color on light, airy fabrics. Far from the ordinary, his dazzling collection is now displayed and sold in dozens of Antica Sartoria stores in Italy, along with retail locations in Germany, France and England. While visiting Italy's Positano store, Renée and Curtis immediately fell in love with Giacomo's clothing and decided right then and there to bring his fabulous line of Italian resort wear to Florida. They made arrangements to open a flagship U.S. store in Palm Beach where its "Positano Vibe" was an immediate hit. Since then, Renée and Curtis have opened additional locations in Key West, Naples and Delray Beach. The new stores are just as popular as the original Palm Beach location. One of the reasons why is that designer Giacomo only creates a limited number of each item and once a design is sold out in Italy, the piece is retired. This keeps inventory fresh and allows shoppers to truly own rare pieces from Giacomo's coveted collections. Needless to say, for the boutique's loyal fashionista following, owning one-of-a-kind clothing that not many others have makes is all the more boho chic. In addition to the embroidered Indian gauze shirts, pearl-embellished jeans, caftans, bathing suits, shirt dresses and other "must haves," Antica Sartoria also carries lots of fun, colorful accessories and boho-inspired beach bags, along with a great selection of children's clothing. Antica Sartoria in Key West is open daily from 9:30am – 9pm at 419A Duval St. across from La Concha Hotel (305-296-7617); in Palm Beach, Downtown at the Gardens on the first floor of Cobb Theater (561-799-1777); in Naples at Mercato Center next to Wine Loft (239-682-4006); and in Delray Beach at 512 E. Atlantic Avenue (561-501-7977). FYI: Also coming soon to Miami and Sarasota!
Antica Sartoria
Key West, FL 33040
305-296-7617
AnticaSartoria.com
Daily 9:30 am – 9pm
Positano Meets Key West
This leading Italian beachwear brand burst on the scene during a fashion revolution in the 60's when "Moda Positano" style was born. Renee Schaefer and Curtis Sigretto have now brought the unique line of clothing to Florida with stores in Palm Beach and Key West. Their fabulous collection includes light, airy clothing with dazzling designs that are far from the ordinary. In addition to the embroidered Indian gauze shirts, pearl-embellished jeans, caftans, bathing suits, shirt dresses, and other fashionista "must haves," Antica Sartoria also carries lots of fun, colorful accessories along with a great selection of children's clothing.
---
The Real Deal – The Conch Republic's Only True Coin
What do Conch and Silver Dollars have in common? Known for its tough, savory meat, "Conch" (pronounced "Konk") is robust spiral-shelled mollusk which is considered a sweet island delicacy. Back in the 18th century, resilient Key Wester's depended on Conch as a major food source and eventually adopted it as their namesake.
In the early 80's, Key West even declared itself the "Conch Republic" emblazoning the Conch's iconic shell on everything from flags to t-shirts. And that brings us to the Bahamian One Dollar Conch Coin – the only official government coin to bear the Conch's image and also to be valued with genuine "legal tender" status. We're not talking about souvenir Conch "medals" here. You'll find trinkets like those all over the Keys but they are not true "legal tender" and hold no government monetary status. Only the Bahamian One Dollar Conch Coin is the "true coin of the Conch Republic" and is made up of solid silver with almost half an ounce of pure silver.
Conch Republic Coins
Keys-Wide
305-987-5777
The Only True Coin Of The Conch Republic
The Bahamian One Dollar Conch Coin is the only official government coin bearing the Conch's image and valued with "legal tender" status. These solid silver vintage coins come as pendants, key chains and money clips framed in sterling or gold. Available in Key West at Jeff's Gems & Abaco Gold; Marathon: The Midas Touch; Islamorada: Ocean Gardens.
Island Smoke Shop
MM 103.4, Bayside
In The Pink Plaza
Key Largo, FL 33037
305-453-4014
islandsmokeshop.com
Open M-Su 10am – 6pm
Hand-Crafted Premium Cigars
With over 1,200 brands and sizes in stock and a 1,000 sq. ft. walk-in humidor, the largest cigar shop in South Florida is also one of the smallest cigar manufacturers in the world and the exclusive factory outlet for the award-winning El Original —cited as both the "Top Rated Maduro In The World," and the Best Cigar Made In The U.S. Great discounts on traditional Briar smoking accessories, cigar art and more.
---
Jeff's Gems – Key West's Great Little Find
Key West: Master jewelry designer, Jeff Woessner, started making jewelry at the tender age of 5 and sold his first creation from a stand
in front of his Heartland Michigan house when he was just 8 years old. Over the last 40 years, his prolific talent has garnered him multiple awards and his small Key West shop, which is tucked away in a small alley behind Kennedy Drive, is far from the maddening crowds of busy Duval Street.
Jeff's Gems & Nautical Designs
906 F Kennedy Drive
(Behind Kennedy Plaza)
305-296-4367
jeffsgems.com
Open T-Sa 10am – 6pm; Sa 10am-4pm
Elegant Handcrafted Jewelry
Master jewelry designer, Jeff Woessner, started making jewelry at the tender age of 5 and his prolific talent garnered him multiple awards along with a loyal clientele who revel in his meticulous handcrafted rings, earrings, necklaces bracelets & more including one-of-a-kind custom pieces made from authentic treasure coins. His small shop also stocks a great selection of nautical designs & gifts.
---
The Key Lime Bakery
Watch 'Em Being Made!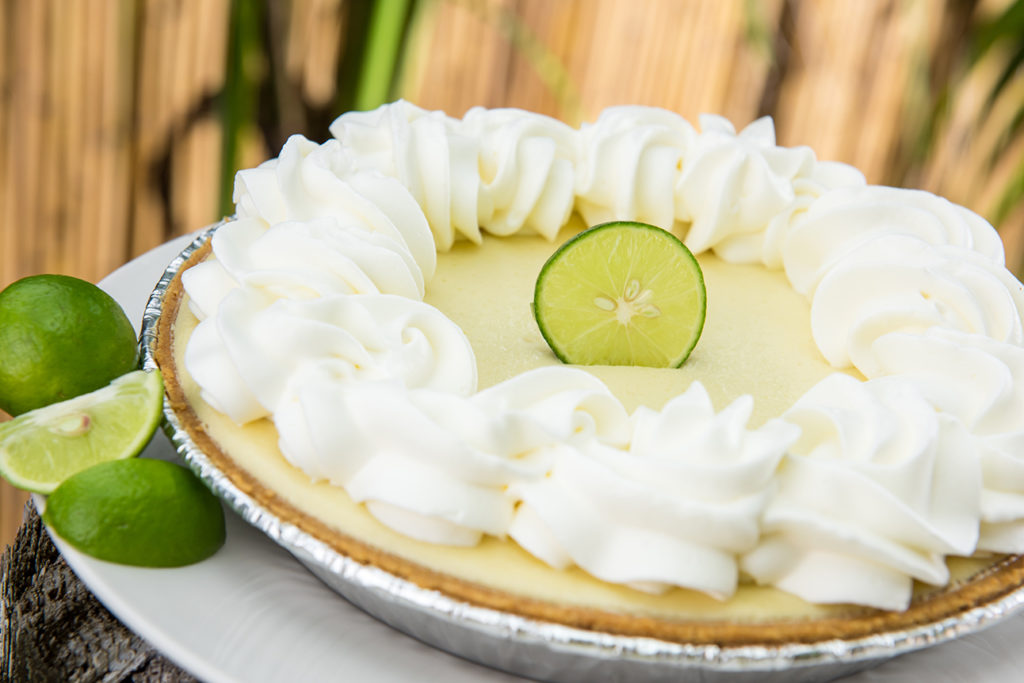 Key West: The Key Lime Pie Festival is one of Key West's tastiest summer events. So what better time to taste Key West's best key lime pie? Which brings us to Key West's renowned Key Lime Pie Bakery. The folks here have an absolute passion for Key Lime Pie. Not that you can't find Key Lime Pie at almost every roadside joint up n' down the Keys, but these dedicated bakers whip up the Real McCoy – authentic, tart, creamy pies made from an original old fashioned family recipe using only100% pure Key Lime juice, cuddled on a graham cracker crust and topped with real whipped cream.
And here's the best part: these handcrafted pies are literally fresh out of the oven and you can actually watch them being made right on premises in the Key Lime Pie Bakery kitchen. You can devour these pies by the slice, on a stick dipped in chocolate or be a real hero and take home a whole pie.
Key Lime Bakery
412 Greene Street
Key West, FL 33040
305-296-9515
keylimepiebakery.com
Open M-Su 9am – 11pm
Home of Key West's Original Key Lime Pie
Here's where you can watch the bakers whip up deliciously fresh & ready-to-eat key lime pies right on the premises and also indulge in Grandma Boots' homemade coconut pie – another delightfully decadent old family recipe. Lots of Key Lime specialties & gifts here, too – perfect for folks back home.
Little Switzerland
271 Front Street
On The Harborfront next to The Westin
305-293-8600
littleswitzerland.com
M-Su 9am – 8pm
World Famous Luxury Brands
This world renowned shop is famous for its luxurious selection of fine jewelry and watches. You'll find great deals on some of the biggest names in the business including Roberto Coin, Omega, Breitling, Tag Heuer, David Yurman, John Hardy, Avance, Marco Bicego, Ippolita, Pandora and more.
Martinis Fine Wine & Spirits
MM 81.6, Bayside
Islamorada, FL 33036
305-664-4800
martinisfinewineandspirits.com
Open M-Th 9am – 10pm; F & Sa 9am – 11pm
Largest Selection In The Upper Keys
You'll find an amazing selection of world-class wines, always-cold craft beers, whiskey, cognac, bourbon, fortified wine and top brand spirits here along with a lot of hard-to-find labels. If you need to order a keg or tap for your party, you can get it here, too, along with an array of smokin' cigars from the humidor. Super reasonable prices!
---
Mel Fisher Treasures There's Gold In Them Thar Seas!
It's September 4, 1622 and the weather is perfect when the Tierra Firme flota, a fleet of 28 ships, sets sail from Havana, Cuba bound for its home port of Cadiz, Spain.
Laden with silver from Peru and Mexico, gold and emeralds from Columbia and pearls from Venezuela, the ships carry one of the richest new world cargos ever collected.With 82 infantrymen to defend the ships against pirate attacks, the 110' galleon Nuestra Señora Atocha sails as the fleet's rear guard. Because of her size and massive firepower, she is the ship of choice for wealthy passengers and sits low in the water with a rich cargo that is almost beyond belief.
Mel Fisher Treasures 
200 Greene Street
613 Duval Street
Key West, FL 33040
305-296-6533
melfisher.com 
Open Daily 8:30 am – 5:30 pm
The Source for Authentic Shipwreck Treasure Here is where you can find genuine, one-of-a-kind shipwreck jewelry and artifacts from the $450 million dollar treasure cache of the 1622 shipwreck "Nuestra Senora de Atocha" which was discovered off of Key West in 1985 by the world's most famous treasure  hunter, Mel Fisher. The shop also carries a wide selection authentic treasure coins from other wrecks as well as re-creation jewelry, memorabilia, apparel and literature.
Neat Stuff
3201 Flagler Avenue
(Across from Bank America)
Key West, FL 33040
305-296-7677
neatstuffkw.com
Seasonal Hours
Great Deals on Cool Stuff
If you're looking for some really cool stuff and want to go where the locals shop (free parking, free gift wrap, lower prices), NEAT STUFF is just the ticket. It has all sorts of unique tropical & vintage clothing, hand-painted leather purses, shoes, jewelry, Tervis Tumblers, decorative items, home accessories consignment treasures and more. It's also "Baggallini Central" for all you Baggallini purse lovers.
Neptune Design
301 Duval Street Key West, FL 33040
305-294-8131
neptunedesignskeywest.com 
Open Daily 10am – 10pm
Custom Jewlery & Gold Coin Creations
This family-owned and operated boutique  jeweler has been meticulously creating 14 karat solid gold creations for over 30 years and specializes in unique custom jewlery designs. You'll find a huge selection of nautical designs, orginal charms, pendants, single 14 karat gold hoops and cut coin jewelry, as well as rare Tahitian Black Pearls and an exclusive line of Orchid jewlery fashioned from real orchid flowers.
Oceanside Home
MM 82 Oceanside
Islamorada, FL 33036
305-451-1181
oceanside-islamorada.com
Open M-F 10 am – 5 pm; Sat 'till 3pm
Open Daily 9am – 7pm
Coastal Home Accessories & Furniture
Design Consultant Lisa Laufle shares some of her favorite coastal home accessories, furniture and decorating ideas at this lovely showroom where you can find fresh, fabulous rugs from Dash & Albert, extraordinary bedding by Ankasa, special statement furniture crafted by Made Goods, casual, elegant interior pieces designed by OLY, gorgeous bath accessories from Pigeon and Poodle and so much more! Lisa also offers consulting services as well as custom orders.
Ocean Wellness Spa
829 Simonton Street
Key West, FL 33040
305-320-0500
OceanSpaKeyWest.com
Open Daily 9am – 7pm
Key West's Charming Healing Retreat
This charming, historic healing retreat in the heart of Old Town offers an extraordinary line of organic-inspired products, services and therapies by seasoned, certified professionals. You'll find a luxurious menu of treatments here, including Salon Services, Touch Therapies, Face & Body Care, Traditional Chinese Healing Arts, Nutrition & Weight Management. Weddings & groups welcome.
The Keys™ Salt Scrub
40 High Point Road #101
Tavernier, FL 33070
305-852-9499
TheKeysSaltScrub.com 
Hours Vary By Location
Transforms Your Skin In Just 60 Seconds
The Local's #1 favorite is handcrafted in small batches right here in the Keys using the unique "Secret Less-Oily Formula" which will transform your skin in just 60 seconds. Massage onto your hands, feet or over your entire body to exfoliate, refresh and re-juvenate. A great gift or perfect keepsake. Available at local restaurants and shops throughout the Keys and online at TheKeysSaltScrub.com.
The Sole Man
610 Duval Street Key West, FL 33040
305-292-2505
thesolemansandals.com 
Open Daily 9am – 9pm
If The Shoe Fits – Buy It In Every Color
The Sole Man is all about comfort and active lifestyles and owner John Brandolino is passionate about providing really good shoes with high "orthopedic value." You'll find a huge selection of the best of the best here including Michael Kors, Sam Edelman, Arche, Anyi Lu, Mephisto, FLY, Jambu, UGG, Vibram, FitFlop and more. In fact, every brand John carries represents the most prominent foundation in quality footwear.
Wyland Galleries
623 Duval Street
Key West, FL 33040
305-292-4998
wyland.kw.com
Open Daily 10am – 10pm
"The World's Largest Wyland Gallery"
Key West is home to the largest Wyland Gallery in the world which showcases a stellar collection of original paintings, marine life bronzes, acrylic sculptures and more by Wyland, the world's premiere marine life artist and a dedicated conservationist. His flagship gallery also represents fine ocean and environmental art & contemporary works by other leading artists, as well.