Ahhhh….the Florida Keys & Key West! Connected by 43 bridges, America's southernmost paradise begins just south of Miami in Key Largo and then hopscotches over the Atlantic Ocean, Florida Bay and the Gulf of Mexico until you hit to the end of the road in Key West. We have five fascinating destinations, here, starting with Key Largo and Islamorada in the Upper Keys, Marathon which is in the heart of the Middle Keys, Big Pine in the Lower Keys and last but not least, Key West, also known as the southernmost city in the continental US. Each area has its own distinctive vibe and personality but all embrace our official island philosophy of "One Human Family"  which reflects our respect for diversity and inclusion of all people.
And while all of these magical Keys are world renowned for some of the best fishing, diving, boating and water sports on the planet, our islands are also brimming with unique shops, artists' studios, galleries, museums and historical attractions, along with highly acclaimed theatrical and musical performances.
Click on any one of the links you find here and we'll give you your keys to paradise so that you can truly  "Live It Like A Local!"
It's Key Lime Time! 5th Annual Key Lime Festival
Key West's 4th of July celebration takes on a whole new twist with the 5th Annual Key Lime Festival which takes place from July 1 through July 4. Here are just a few of the Festival's highlights:
Read More
WINEDINEKEYWEST For all the Hot deals!
Play Stay Relax Shop Drink
It's hot out there, come join us at the newest soirée in key west, cool off in a luxurious room after a dip in the pool, get pampered at one of our award winning spas, shop for local art or unique handmade jewelry, then get dressed for a delicious meal paired with featured wines.

Underwater Music Festival This Will Blow Your Fins Off
Lower Keys: If you've never raved to an Underwater Concert before, then it's time to get your groove on for the wet and wacky 33rd Annual Lower Keys Underwater Concert coming up on Saturday, July 8 from 10 a.m. until 2 p.m. Read More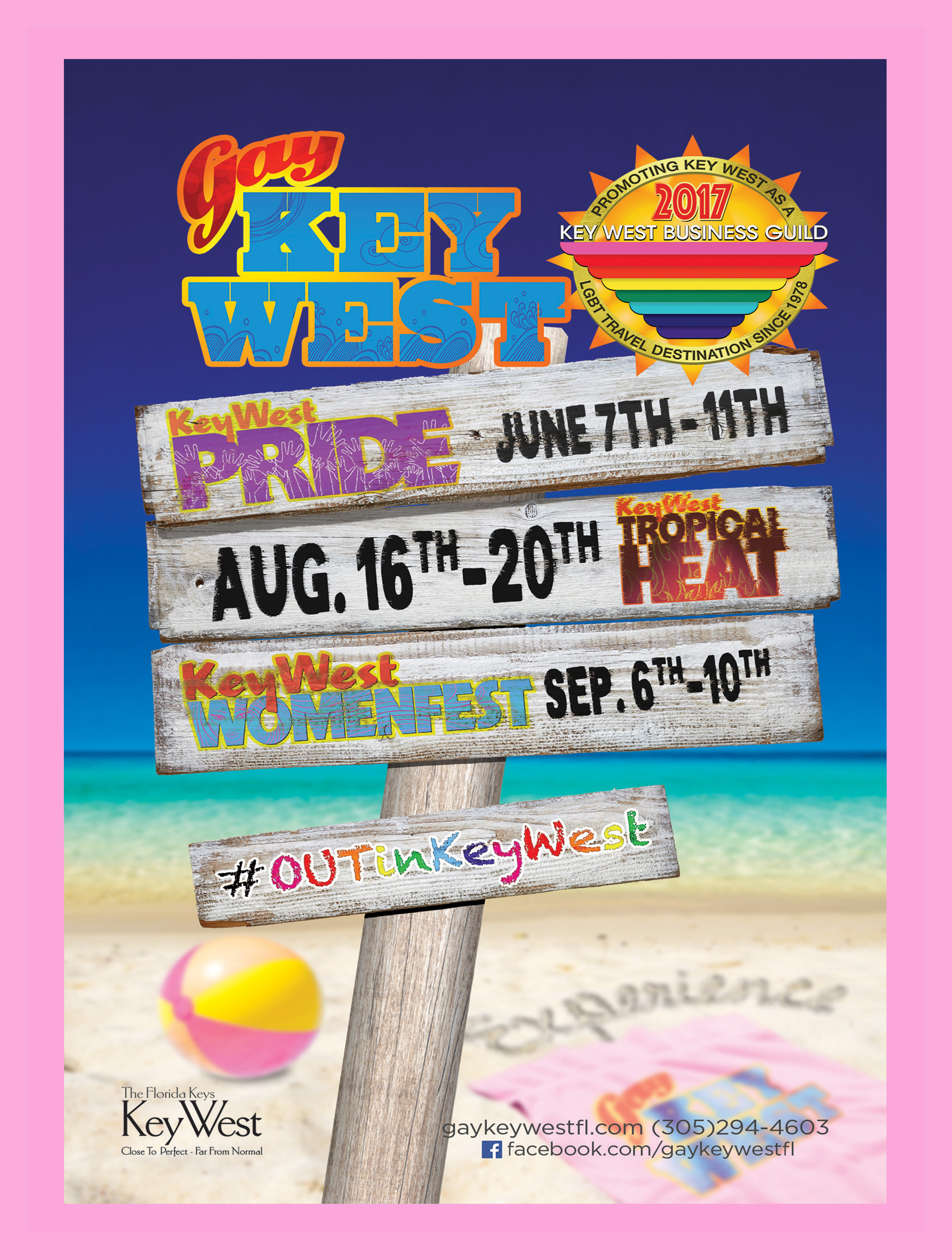 Topical Heat Key West August 16-20, 2017
TROPICAL HEAT is Key West's HOTTEST event for men! The temperature is not the only thing that will rise during Tropical Heat. The all-male theme parties, pool parties, and adult-oriented entertainment promises to be HOT! August on the Island is always HOT, but during Tropical Heat it promises to be STEAMY! Four days of hot guys and fun, the best way to experience Key West.
Womenfest Key West | September 6-10, 2017
Just before the school year starts in earnest just as the last rays of summertime finally set just before the holiday season begins to rev up Key West welcomes women from across the globe to an annual celebration that has become one of the largest gatherings of lesbians and friends in North Americas Womenfest! Each year thousands of ladies come together over the Labor Day weekend and stay for a wide range of activities and events during four days of revelry and fun. Key West boasts restaurants that offer remarkable cuisine year round, watering holes that offer authentic, tropical libations and shops that can't be found anywhere else. Of course the most popular activity during Womenfest usually involves a chaise lounge, a good book, sunscreen and a killer margarita. Come join us on our little island that is close to perfect but far from normal for this fabulous event that gets bigger and better every year! Please go to www.womenfest.com or call 305-294-4603 for tickets to concerts and more information.
Now – July Christopher Peterson's Eyecons
Key West: Often compared to the legendary Jim Baily, master of impersonations, Christopher Peterson is, without a doubt, one of North America's foremost female impersonators – both visually and vocally. His hit show, EYECONS, is one of the hottest tickets in town and you'll be totally amazed by the way he transforms himself into more than a dozen famous women right before your very eyes with the help of his "magic closet." Catch him in the Crystal Room Cabaret at La Te Da, 1125 Duval St., Key West. Tickets and info: 305-296-6706; lateda.com.
Now – July Randy Roberts Live!
Key West: Highly acclaimed entertainer, Randy Roberts shines in this live, multi-media tribute to some of the world's most beloved performers. His uncanny impersonations of Cher, Better Midler and Judy Garland are spot-on and he'll have you rolling in the aisles when he performs a titillating strip tease as the bawdy Gypsy Lee Rose. But nothing compares to Roberts' own self-created character which can only be described as Ann-Margaret, Liza Minnelli and Joan Rivers all rolled into one powerhouse performer. Catch this amazing show at La Te Da's Crystal Room Cabaret, 1125 Duval St., Key West. Tickets and info: 305-296-6706; lateda.com.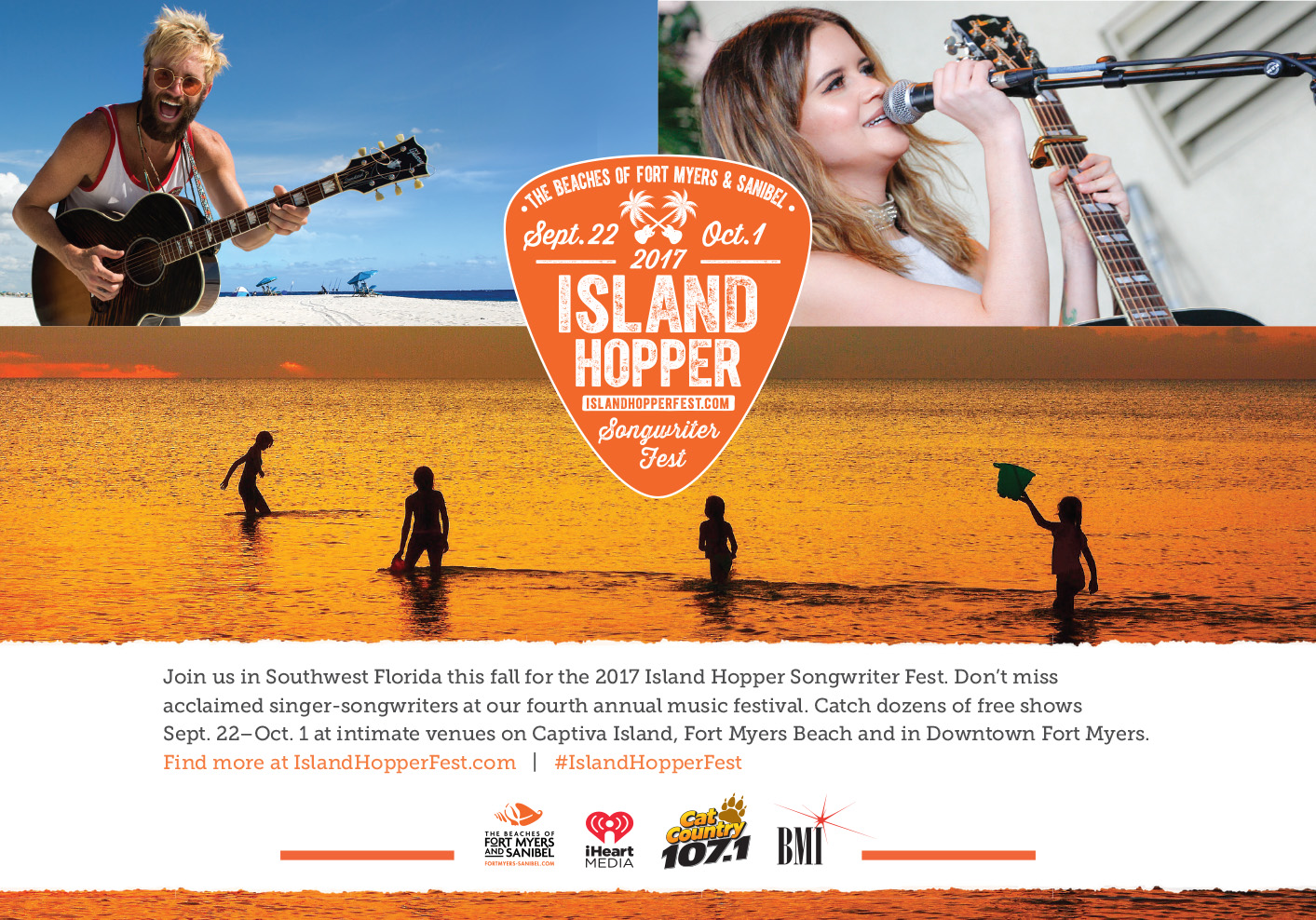 2017 ISLAND HOPPER SONGWRITER FEST
Join us September 22 – October 1, 2017 for a festival featuring nationally acclaimed singer-songwriters brought to The Beaches of Fort Myers & Sanibel by BMI & iHeart Radio. This award-winning festival includes over 100 live performances, more than 60 songwriters, and 20 unique venues! Past performers include Parmalee, Thompson Square, and Grammy Award winner Maren Morris.
Captiva Island: September 22 – September 24, 2017
Downtown Fort Myers: September 25 – September 28, 2017
Fort Myers Beach: September 29 – October 1, 2017