Top Picks   BEST KEYS SUNSET CELEBRATION Lor-e-lei Restaurant & Cabana Bar Cited as one of the "Best and Brightest Spots in Florida" by Power and Motoryacht Magazine, this casual, family-friendly hangout is home to the world famous Lor-e-lei Fishing Guides and lively...
Find Everything You Need In The Keys & Key West
Good Eats Looking for the best restaurants in the Florida Keys? Well, you've come to the right place! The Florida Keys & Key West are a top Florida destination for great food and award-winning restaurants. From cozy, neighborhood bistros, waterfront seafood joints and...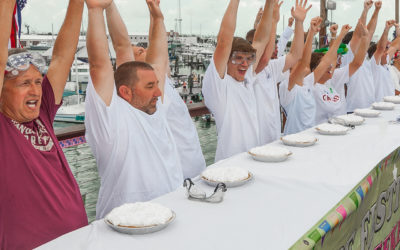 What's Up   So you've reached your final Florida destination, now what? Well, hold tight because this is one Florida destination where the fun never stops! In fact, there are probably more events and festivals going on in the Florida Keys & Key West than in any other...
Finding the right Florida Keys lodging depends on many factors for each guest. Some families need multiple rooms, while others look for pet friendly places. Luckily, Florida Keys accommodations provide a wide range of choices. Because of its global status as a resort...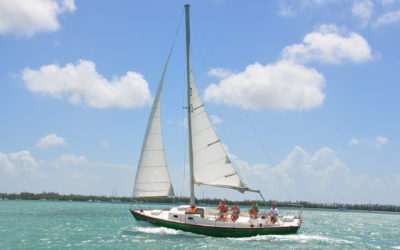 Explore If you're ready to discover some cool things to do in Florida, you've come to the right place. The Florida Keys & Key West are one of the best destinations in the world to experience sunset sails, fishing, kayaking, snorkeling, deep water diving and back...
Shop & Relax Shopping in the Florida Keys and Key West is an adventure unto itself. Florida's final destination boasts hundreds of interesting shops, stores and over 90 eclectic galleries spread over 43 islands. Keep your eyes peeled as you travel along the Overseas...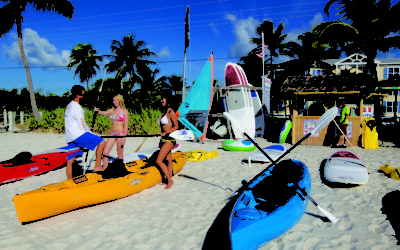 Florida Travel: The Ultimate Florida Keys Road Trip Published on Jul 10, 2014 Get away with Chad Crawford as he makes his way through the beauty of the Florida Keys. Each key has something unique to offer and Chad shows you the best when he shows you how to Do the...
NEST OK, so here you are, ready to snatch up your own little piece of Paradise. But here's the big question: "Which Key is right for you?" Our 125 mile-long subtropical island chain consists of more than 1700 islands, many of which offer unique opportunities for...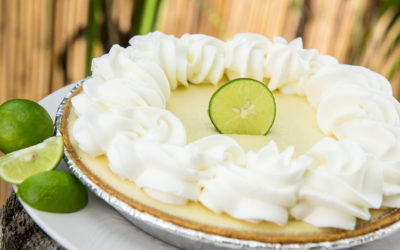 bite Heritage Meatballs from Max's Harvest Chef Chris Miracolo knocks it out of the park every time with his simple, holistic approach to cooking which yields a seasonal harvest of sophisticated flavors. One of our favorite dishes is his signature Heritage...
ion Armando Gonzalez Dateline: September 2017. Hurricane Irma just raged through the Keys leaving behind a wake of awe-inspiring destruction that was beyond comprehension. With no power or potable water and much of its housing severely damaged or completely destroyed,...
Final Florida Destination: Paradise!
Ahhhh….the Florida Keys & Key West! Connected by 43 bridges, Florida's final destination, and America's southernmost paradise, begins just south of Miami in Key Largo and then hopscotches over the Atlantic Ocean, Florida Bay and the Gulf of Mexico until you hit "Destination Florida Keys & Key West." We have five fascinating areas, here, starting with Key Largo and Islamorada in the Upper Keys; Marathon which is in the heart of the Middle Keys; Big Pine in the Lower Keys; and last but not least, Key West, also known as the southernmost city in the continental US. Each area has its own distinctive vibe and personality but all embrace our official island philosophy of "One Human Family" which reflects our respect for diversity and inclusion of all people. And while all of these magical Keys are world renowned for some of the best fishing, diving, boating and water sports on the planet, our islands are also brimming with unique shops, artists' studios, galleries, museums and historical attractions, along with highly acclaimed theatrical and musical performances. Click on any one of the links you find here and we'll give you the keys to your final Florida destination so that you can truly "Live It Like A Local!"
Pie In The Sky
Key West Key Lime Festival
Key West's 4th of July celebration takes on a whole new twist during the 6th Annual Key Lime Festival.
The Florida Keys' sweetest treat will be in the "limelight" from Saturday, June 30 through Wednesday, July 4 when Key Lime aficionados can salute the island chain's signature treat.
The festival, which was conceived by Keys' author and baker David Sloan, who penned "The Key West Key Lime Pie Cookbook," includes five full days of lip-smacking culinary events.
Things kick off on Saturday, June 30 with a Key Lime Pie Drop (a wacky test of gravity's effects on the creamy pie) and a Sip & Stroll where you can sample Key lime martinis, margaritas and other limey libations at selected local watering holes and vote for your favorite.
The long holiday celebration also includes the Key Lime Pie Hop, a leisurely "moveable feast" where lime lovers can stroll to multiple locations to savor variations on the famed dessert; Key Lime Rum samplings and tours at Key West's First Legal Rum Distillery; Key lime cooking lessons and more.
But the festival's undisputed annual highlight is the Mile-High Key Lime Pie Eatin' Contest set for Wednesday, July 4, at the Ocean Key Resort. Contestants must attempt to devour an entire 9" pie, topped with mounds of whipped cream, without using their hands — while trying to outpace their rivals. Doors open at 10am and the contest begins at 11am.
For a full list of events go to: keylimefestival.com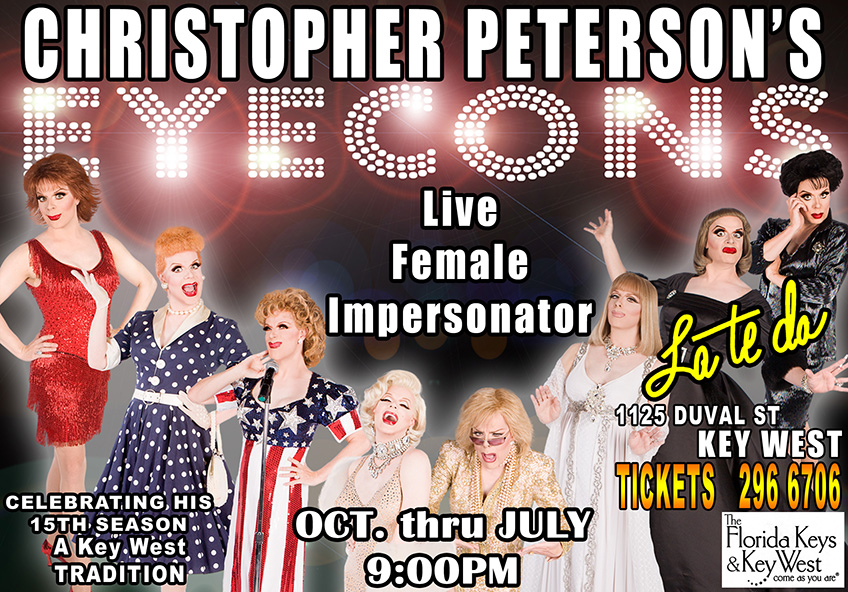 Oct – July Christopher Peterson's Eyecons
Key West: Often compared to the legendary Jim Baily, master of impersonations, Christopher Peterson is, without a doubt, one of North America's foremost female impersonators – both visually and vocally. His hit show, EYECONS, is one of the hottest tickets in town and you'll be totally amazed by the way he transforms himself into more than a dozen famous women right before your very eyes with the help of his "magic closet." Catch him in the Crystal Room Cabaret at La Te Da, 1125 Duval St., Key West. Tickets and info: 305-296-6706; lateda.com.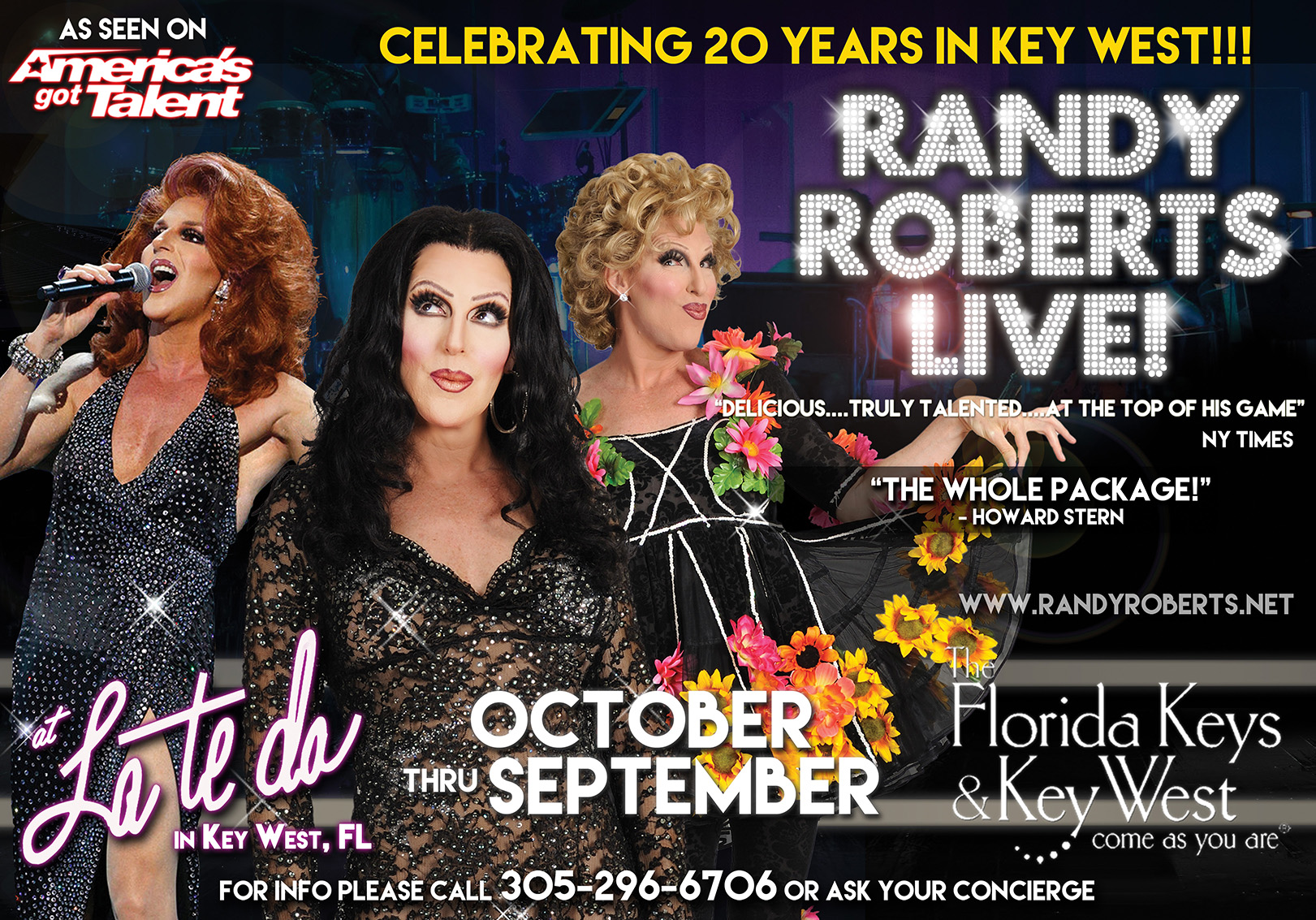 Oct – July Randy Roberts Live!
Key West: Highly acclaimed entertainer, seen on America's Got Talent, Randy Roberts shines in this live, multi-media tribute to some of the world's most beloved performers. His uncanny impersonations of Cher and Better Midler are spot-on and he'll have you rolling in the aisles when he performs a titillating strip tease as the bawdy Gypsy Lee Rose. But nothing compares to Roberts' own self-created character which can only be described as Ann-Margaret, Liza Minnelli and Joan Rivers all rolled into one powerhouse performer. Catch this amazing show at La Te Da's Crystal Room Cabaret, 1125 Duval St., Key West. Tickets and info: 305-296-6706; lateda.com.
For every edition we print, DESTINATION Florida Keys & Key West will plant a correlating number of Ponderosa Pines in South Dakota's Pine Ridge Native American Indian Reservation. Encompassing 3,468.85 square miles, and larger than Delaware and Rhode Island combined, it is the eighth largest reservation in the US.
As a global forestry partner with the international Print Relief initiative, we are committed to converting our paper footprint into actual trees.
Greening the landscape to combat climate change, land rights issue and poverty, while developing income opportunities are paramount to the Pine Ridge Project. With Print Relief, resources borrowed from the earth can be returned and multiplied after use. Through their verified reforestation process, there is a 100% net survival of the trees we plant.
Thanks for your support as we now help to reforest the Pine Ridge Native American Reservation…
one print job at a time.
DESTINATION FLORIDA
The Sunshine State's most recommended Visitors Guide
now available in your favorite Florida Destinations!