Final Florida Destination: Paradise!
Ahhhh….the Florida Keys & Key West! Connected by 43 bridges, Florida's final destination, and America's southernmost paradise, begins just south of Miami in Key Largo and then hopscotches over the Atlantic Ocean, Florida Bay and the Gulf of Mexico until you hit "Destination Florida Keys & Key West." We have five fascinating areas, here, starting with Key Largo and Islamorada in the Upper Keys; Marathon which is in the heart of the Middle Keys; Big Pine in the Lower Keys; and last but not least, Key West, also known as the southernmost city in the continental US. Each area has its own distinctive vibe and personality but all embrace our official island philosophy of "One Human Family" which reflects our respect for diversity and inclusion of all people. And while all of these magical Keys are world renowned for some of the best fishing, diving, boating and water sports on the planet, our islands are also brimming with unique shops, artists' studios, galleries, museums and historical attractions, along with highly acclaimed theatrical and musical performances. Click on any one of the links you find here and we'll give you the keys to your final Florida destination so that you can truly "Live It Like A Local!"
Key West Cool
What Movie Do You Want To Walk Into?
When local writer/actor/producer, Bob Bowersox, and Key West entertainer, Melody Cooper, wanted to add some magic to their upcoming nuptials, they rang up Rock Solomon at Mixdeity Entertainment who simply asked: "What movie do you want to walk into?"
The answer: "Old Hollywood in the 1940s."
With that, Rock and his entertainment company were off and running. Providing customized entertainment is one of Mixdeity's fortes so it didn't take long for them to fly in top musicians from all over the country and assemble a 12 piece "Big Band" for the couple's main event.
Dressed in vintage style clothing and backdropped with video and slick graphics, the wedding entertainment rocked the house. And while swing jazz of old Hollywood is a specialty for Mixdiety, it's just the beginning of what they can do.
When Rock and company take on an event, it's all customized – complete with era wardrobe, theatrics and songs to fit any party theme – from vintage Big Bands, solo wedding musicians and top tier bands and singers, to a modern DJ & Light Show, trained dancers, circus acts, aerial acts, comedy, burlesque, magicians and just about anything else you can imagine.
So here's the question: "What movie do you want to walk into?" Think carefully before you answer because these guys will really make it happen.
Hook up with them at 305-570-3000; mixdeity.com.
ion Rock Solomon
The name is Rock. Rock Solomon.
A young crooner with an old soul and an original sound, Rock Solomon is a lot like the jazz-twisted alternative world pop music he's become known for: mellow, sexy, good. As the son of a living jazz legend and a folk-singing enchantress, Rock trained in over half a dozen instruments since childhood and has been performing professionally since the ripe age of seven. Since then, the handsome jazz cognoscenti has morphed into both an actor and event producer.
When he's not "Rocking" the island with Key West's "Jazz Age Retropectacular", his original interactive costumed music series, or performing at popular venues around town, you'll find him working with local venues, party and wedding planners at MIXDEITY Entertainment, his Key West talent agency and events company that specializes in customized entertainment and vintage themes.
Remember the name Rock. Rock Solomon.
He's a man on a mission and a hard act to follow.
Check him out at mixdeity.com.
March 18
3rd Annual Islamorada Seafood Festival & Art Show
Islamorada: This lively, hometown festival is a local favorite and always draws a fun crowd who take to the street for a day of yummy fresh seafood, culinary delights, fine art, crafts and jammin' entertainment. Takes place from 11am – 5pm in the Morada Way Arts & Cultural District at MM 81 on Old Hwy. in Islamorada. Info: 305-664-8120.
April 14
Mote's 8th Annual Florida Keys Ocean Festival & Waterfront Craft Show
Key West: Mote Marine Laboratory's annual community Celebration encourages underwater and outdoor enthusiasts  to honor Florida's marine environment. This day of fun includes arts and nautical-themed vendors, conservation exhibitors, children's fishing clinics and lots of activities.  Takes place from 10am-6pm at NOAA's Key West Eco-Discovery Center and Truman Waterfront, 35 E Quay Rd, Key West. Info: moteoceanfest.org.
May 17 – May 20
Key Largo Original Music Fest
Key Largo: Four days of multiple musical happenings set the stage, during this eclectic music festival which showcases hit songwriters from Nashville and beyond, as well as an elite group of local and national singers and bands who perform everything from Rock to Country to Blues and more. The festival kicks off on Thurs., May 18 at Sundowners Waterfront Restaurant, MM 104, Bayside and continues all weekend long with multiple stages at Cactus Jacks and Señor Frijoles. For a full schedule of events call 305-394-37; keylargooriginalmusicfest.com.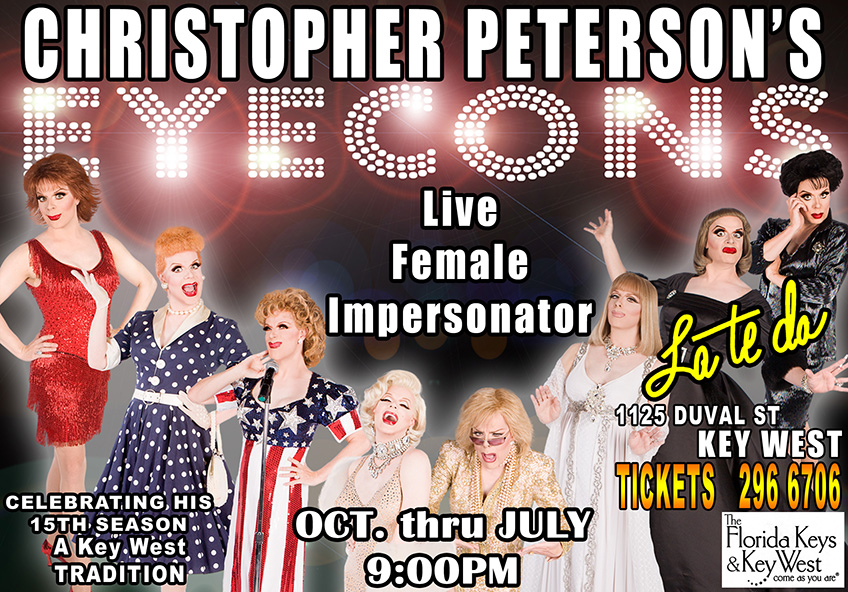 Oct – July Christopher Peterson's Eyecons
Key West: Often compared to the legendary Jim Baily, master of impersonations, Christopher Peterson is, without a doubt, one of North America's foremost female impersonators – both visually and vocally. His hit show, EYECONS, is one of the hottest tickets in town and you'll be totally amazed by the way he transforms himself into more than a dozen famous women right before your very eyes with the help of his "magic closet." Catch him in the Crystal Room Cabaret at La Te Da, 1125 Duval St., Key West. Tickets and info: 305-296-6706; lateda.com.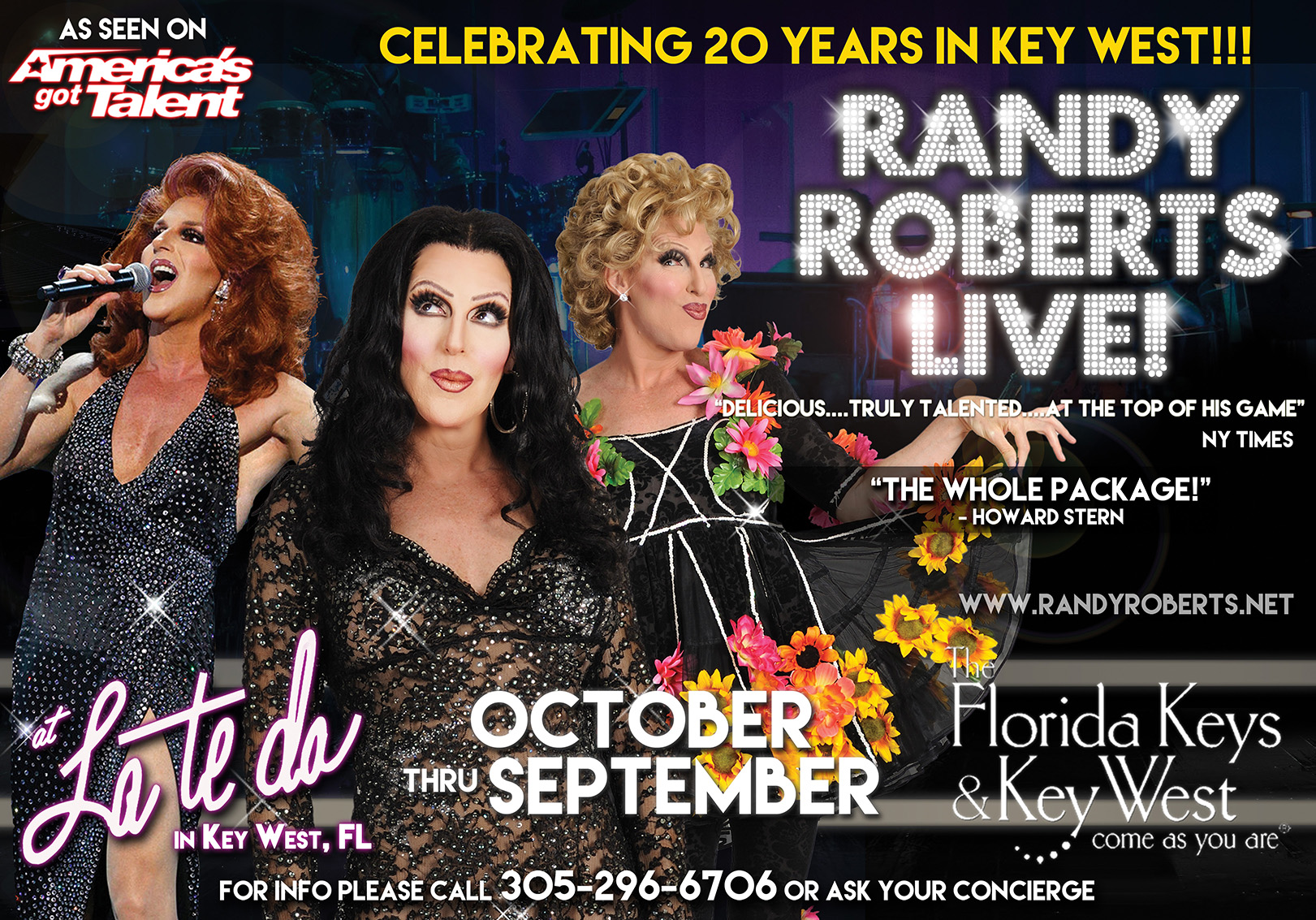 Oct – July Randy Roberts Live!
Key West: Highly acclaimed entertainer, seen on America's Got Talent, Randy Roberts shines in this live, multi-media tribute to some of the world's most beloved performers. His uncanny impersonations of Cher and Better Midler are spot-on and he'll have you rolling in the aisles when he performs a titillating strip tease as the bawdy Gypsy Lee Rose. But nothing compares to Roberts' own self-created character which can only be described as Ann-Margaret, Liza Minnelli and Joan Rivers all rolled into one powerhouse performer. Catch this amazing show at La Te Da's Crystal Room Cabaret, 1125 Duval St., Key West. Tickets and info: 305-296-6706; lateda.com.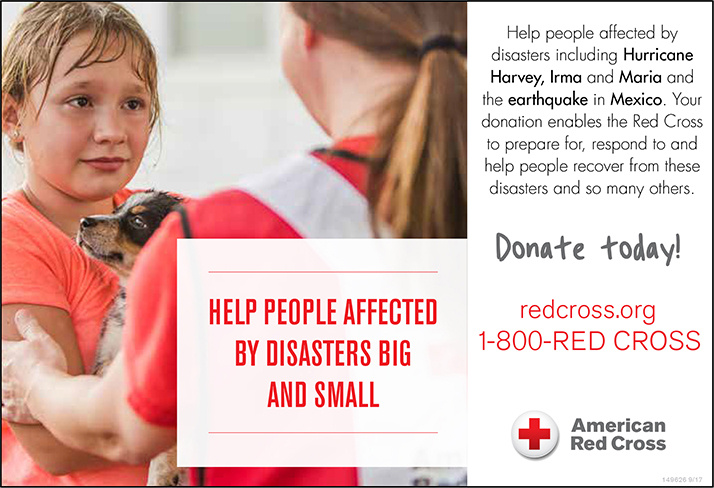 Change Lives with Your Gift. Donate Now.
Each day, thousands of people – people just like you – provide compassionate care to those in need. Our network of generous donors, volunteers and employees share a mission of preventing and relieving suffering, here at home and around the world.
Red Cross volunteers and staff work to deliver vital services – from providing relief and support to those in crisis, to helping you be prepared to respond in emergencies.
Boho Chic
Antica Sartoria Italian Resort Wear
It was the small turquoise fish logo that first caught her eye. As Renée Schaefer and her husband Curtis Sigretto explored
the small picturesque town of Positano on Italy's breathtaking Amalfi coast, they stumbled upon a small boutique called
"Antica Sartoria." The store's unique fish shaped logo drew the couple inside where they discovered clothing that was very different from anything in the States.
Antica Sartoria's clothing designs were boho chic – fresh, inspiring and offering gorgeous statement-making pieces. Established during a fashion revolution in the '60s when the famous "Moda Positano" style was born, all of Antica Sartoria's clothes are designed by Giacomo Cinque who so loved embroidery and blending patterns that he started his own line of clothing incorporating daring color on light, airy fabrics. Far from the ordinary, his dazzling collection is now displayed and sold in dozens of Antica Sartoria stores in Italy, along with
retail locations in Germany, France and England.
While visiting Italy's Positano store, Renée and Curtis immediately fell in love with Giacomo's clothing and decided right then and there
to bring his fabulous line of Italian resort wear to Florida. They made arrangements to open a flagship U.S. store in Palm Beach where its "Positano Vibe" was an immediate hit. Since then, Renée and Curtis have opened several other Florida locations. The new stores are just as popular as the original Palm Beach location. One of the reasons why is that designer Giacomo only creates a limited number of each item and once a design is sold out in Italy, the piece is retired. This keeps inventory fresh and allows shoppers to truly own rare pieces from Giacomo's coveted collections.Needless to say, for the boutique's loyal fashionista following, owning one-of-a-kind clothing that not many others have makes is all the more boho chic.
In addition to the embroidered Indian gauze shirts, pearl-embellished jeans, caftans, bathing suits, shirt dresses and other "must haves," Antica Sartoria also carries lots of fun, colorful accessories and boho-inspiredbeach bags, along with a great selection of children's clothing. You can find Antica Sartoria in Palm Beach, Downtown at the Gardens (561-799-1777); in Delray Beach at 512 E. Atlantic Avenue (561-501-7977); in Naples at Mercato Center (239-682-4006); and in Key West at 419A Duval Street (305-296-7617). Also coming soon to Miami and Sarasota!